The Iacocca International Internship Program offers roughly 100 internship opportunities every year with a variety of options to align well with most majors.
Students may travel individually or in a small group led by a Lehigh faculty or staff member. You may work in a multinational corporation, help a nonprofit or NGO, or perform research in a laboratory or in the field. Opportunities are available in approximately 30 countries.
The international internships are mostly funded through the Iacocca Foundation, the Freeman Foundation and other donors. This means that major costs of the program, including airfare, housing, local transportation and most meals, are covered. The funding does not cover passport or visa fees, immunizations, optional excursions, personal expenses and some meals. Internships are full time and unpaid, and most do not carry academic credit.
Specific internship opportunities for summer 2019 will be posted in the fall of 2018. Read about past internship experiences in the student reports.
INFORMATION SESSIONS
Information Sessions are a mandatory requirement of the application. If you plan to apply, please attend one of the following sessions, which are available on alternative days of the week and times of the day to accommodate class schedules. Attendance at ONE information session is a mandatory part of the application process. All sessions held in Lamberton Hall, Great Room 151.
Thursday, October 25, 12:00 PM - 1:00 PM

Tuesday, October 30, 8:00 AM - 9:00 AM

Thursday, November 1, 12:00 PM - 1:00 PM

Monday, November 5, 4:00 PM - 5:00 PM
2019 Internship Placement Opportunities
2019 internship placements are available in many locations and disciplines. The 2019 internship opportunities will be available to view from October 15 noon through November 16 noon.
Students can apply for one internship or note a first choice and a second choice. Of great importance, if you provide a second choice on your application, it will be assumed that you will accept that placement if it is offered, so please indicate a second choice only if you fully intend to accept it.
Three Types of Internship Opportunities
Pre-set Individual Internships

planned by IIIP. Many internship placements are repeat offerings and sourced by Lehigh University Alumni.

Customized Internships

facilitated through program providers. The specific internship organization is assigned after the student is selected based upon discipline, and through working closely with our third-party provider. In these cases, you will only be informed of the designated country upon acceptance into IIIP and you may not be aware of the specific organization where you will be working until approximately one month prior to departure as you will need to work closely with an advisor through the placement process.

IIIP Group Programs

are facilitated by a Lehigh faculty/staff member. IIIP group programs are typically comprised of one faculty/staff member and approximately four students.
Application Instructions
Review the 2019 Iacocca International Internship Opportunities

to determine which placements align best with academic background and career aspirations as well as geographic interests.

Attend an

Information Session to learn about the program model in more detail and have the opportunity to meet and ask questions from program alumni. Attendance at ONE information session is MANDATORY to apply for a 2019 Iacocca Internship.

Direct any and all questions to inliii@lehigh.edu.

Complete the online application:
Log into the Lehigh Portal and go to Banner.

Once in Banner, select the Student Services tab.

Apply to the Iacocca International Internship Program

Please note that by applying via the online application, you are authenticating and electronically signing the Student Understanding and Agreement for International Internships and Addendum.

The application does not need to be completed in one sitting and you simply need to be sure to save it when taking a break. Most importantly, be sure to hit SUBMIT when you have completed the on-line application. Also, please read the corresponding automatic email to complete the process.
Email supplemental documentation (resume and transcript) by the deadline to inliii@lehigh.edu.
Request that two people submit letters of recommendation via this link. One of the two letters should come from someone of the Lehigh community, i.e. faculty, staff, supervisors, advisors, coaches etc.
Walk-In Open Advising Sessions are available as noted below.

IMPORTANT NOTES about open advising sessions. Students MUST first attend an Information Session. Students should not plan or expect that this brief meeting will affect candidacy in any way! Students must first preview the placement opportunities and come to the session with specific questions that are only in relation to the internship placements.
October 29, 1:30 - 3:30 PM, Coxe Hall, Global Union (second floor)
October 31, 9:00 - 11:00 AM, Coxe Hall, Global Union (second floor)
November 2, 11:00 AM - 12:00 PM, Coxe Hall, Global Union (second floor)
See 2018-2019 application timeline for additional information

.
Selection Criteria
The steering committee will review all completed applications using a holistic approach to select students, with consideration given to the following criterion:
Financial need: priority is given to students with financial need

Previous international experience. One of the goals of the program is to provide international experience to students who have not been abroad previously. Please note that our records will indicate whether you have participated in a Lehigh-sanctioned program and that the application specifically asks for personal or prior international experience. Honesty is expected in the latter and may or may not have an impact on selection.

Alignment of student experience/interests with the job description of the Experience Provider

Academic success: if all else is equal, priority is given to the student with the higher GPA

Extra-curricular activities as they may relate to the experience
Once Selected
Notification sent to students via email. Students accepted as interns are expected to turn in Letter of Acceptance within a specified two-week timeframe.

Should the student cancel participation after accepting the internship position for any reason other than extreme hardship or health, student will be charged $1,000 through their Bursar account.

Student interns will be added to the 2019 Iacocca Intern CourseSite for the duration of the program.

Iacocca Interns will be expected to fully participate in iiPATH, via several formal sessions during the spring semester and a couple sessions upon their return in the fall semester. This will be further explained to selected Iacocca Interns.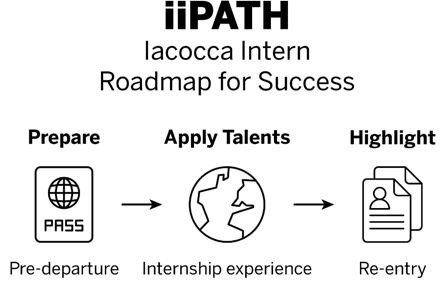 ADDITIONAL POLICIES
By accepting their position, the intern commits to the program during the specified dates. Dates will not be adjusted by or for the student once selected, although the employer and/or IIIP reserves the right to adjust dates if needed (changes are unlikely).

If a student needs to cancel their internship for any reason other than demonstrated hardship, the student will be charged $1,000 through the Bursar.

Graduating seniors must defer graduation until after completion of their internship.

Interns may not take summer classes during their internship.
Lehigh University reserves the right to revoke the internship at any point if:
there are safety and security concerns in the internship location

a student violates any aspect of the Student Understanding and Agreement, the Internship Addendum, letter of acceptance, Lehigh University Code of Conduct, or laws in the country of travel

students fail to follow through on the internship plan as originally proposed
PAST INTERNS
To date, nearly 500 students have interned in 46 countries in a variety of placements. Potential applicants are encouraged to read about the experiences of Iacocca Intern Alumni in the annual student reports.
Student Report 2018 (pdf)
Student Report 2017 (pdf)
Student Report 2016 (pdf)
Student Report 2015 (pdf)
Student Report 2014 (pdf)
Student Report 2013 (pdf)
Student Report 2012 (pdf)
The internship offered a unique insight into how necessary large-scale business and construction projects are conducted in what is currently the fastest-growing large economy in the world. In my first ever abroad experience, I was able to make connections between the traditions and philosophies evident in my household during childhood and the ones that underpin the Indian work and business environment.
Kris Datta '16 , Civil Engineering
VIVA Group, India 2016
Working in the field, experiencing the cultures of a new country, learning from and interacting with people from around the world, seeing conservation, academia, and research in action -- this was all reality for me, thanks to the Iacocca Internship Program. I couldn't say it enough to everyone I met abroad: this was one of the most unique and astounding programs I have heard of, and the fact that I had the opportunity to be exposed to so much I would otherwise miss is more than I could ever have asked for.
Kianna Lauck '18 , IDEAS
Osa Conservation, Costa Rica 2016
Without the Iacocca Internship Program, I would never have been able to travel/study abroad due to complications stemming from schedule flexibility and financial aid. I was chosen to intern in Santiago, Chile at the Ministry of Energy as a data analyst and translator. In my spare time, I toured the city and travelled to destinations such as Patagonia, the Atacama Desert, the San Francisco Glacier and hiked all around the Andes Mountains. In addition, my ability to speak Spanish accelerated from hardly being able to speak it to near fluency.
Gannon Reichert '18 , Materials Science and Engineering
Ministeria de Energia, Chile 2016
There are simply no words that can accurately describe the extent to which I enjoyed my experience as an Iacocca Intern. Working alongside leaders at the forefront of health research was an indescribable opportunity, but the benefits extended far beyond the practical skills I learned during lab hours; I benefited equally from international networking, collaboration across different research groups with various areas of expertise, and other unique opportunities, such as participating in seminars from visiting scientists and physicians. The Iacocca International Internship Program is extraordinary, unparalleled, and truly one of the highlights of my experiences as a Lehigh student.
Barbara Tsaousis '18 , Molecular Biology
Luxembourg Institute of Health, Luxembourg 2016
Coming in, I had no idea what to expect from my trip to Ghana. The time leading up to it was surreal at best and when the day came to leave, I still couldn't believe it. Stepping off the plane into the humidity, I finally realized where I was and that the next six weeks were beginning. My time here has been incredible. The food and the people and the culture is something that I have felt comfortable and at peace in since the beginning of the trip. The experiences I've had and the research that I've done have definitely influenced some of future academic choices and have expanded my range of thought and have impacted me deeply on a personal level.
Sidney Ro '16 , English
Sites of Memory, Ghana 2015