Founded in 1865 and now recognized among the premier research universities in the United States, Lehigh University offers a rigorous academic experience for more than 7,000 students.
Lehigh is a private university with five colleges: the College of Arts and Sciences, the College of Business, the College of Education, the College of Health and the P.C. Rossin College of Engineering and Applied Sciences. Lehigh is consistently ranked by national publications as among the top 50-51 universities in the U.S., putting it in the top 1% of the nation's 5,000+ colleges and universities. Among its key features are its innovative and rigorous academic programs, its vibrant and diverse campus community, and its commitment to strengthening its recognition as a premier teaching and research institution worldwide.
Lehigh is located in the Lehigh Valley, which includes Allentown, Bethlehem, and Easton, and is the third-largest metropolitan area in Pennsylvania. Lehigh is conveniently located within one hour of Philadelphia and 1 ½ hours of New York City.
Global Lehigh
Since its founding, Lehigh University has had ties to the world beyond its campus. In 1868, just three years after its founding, Lehigh admitted its first international students. Today, Lehigh is home to nearly 1,000 international students and 133 standing faculty and visiting scholars from 81 different countries. Approximately 40 percent of Lehigh students have international experiences before they graduate. And one-third of standing Lehigh faculty have earned degrees from universities overseas.
In 2021, Lehigh received the Senator Paul Simon Award for Campus Internationalization, an honor recognizing U.S. colleges and universities that are making significant, well-planned, well-executed, and well-documented progress toward comprehensive internationalization—especially those using innovative and creative approaches.
"This is Global Lehigh" is our plan for comprehensive internationalization, where an international or intercultural dimension is infused in all aspects of teaching, research, and service.
By the Numbers
We thrive on community and collaboration
7,394
undergraduate and graduate students
$67K
average starting salary of 2022 bachelor's graduates
74
countries represented in the student population
Lehigh in India
Lehigh is a global university. Our campus is home to nearly 1,000 international students from 74 countries. Our students choose from more than 300 study abroad programs in 74 countries, and 40 percent of them have an international experience before graduation. Our faculty do research on all seven continents. We engage in international activities all over the world. And we are investing deeply in one region that offers particular opportunity: India.
Lehigh and India have a long history. The first Indian student enrolled in 1956. Today, it is one of the top 10 countries for Lehigh alumni abroad. Our institutional partners include Ashoka University, and our faculty have active research collaborations with Indian institutions including IIT Delhi and IIT Kharagpur. Now we are working to deepen investment in India for student recruitment, alumni engagement, university partnerships and student programs.
News
&

Announcements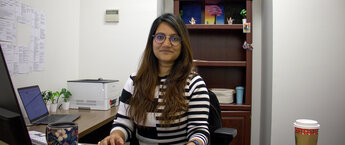 News
Postdoctoral Researcher Willy Das encourages an entrepreneurial mindset
Willy Das, an international scholar from India, looks to bridge gap between academics and entrepreneurs.
Postdoctoral Researcher Willy Das encourages an entrepreneurial mindset
News
Announcing the 2022 Faculty Internationalization Grant recipients
The six professors represent a wide range of academic disciplines and levels of experience.
Announcing the 2022 Faculty Internationalization Grant recipients
News
Anu Arora to work on behalf of Lehigh in India
As senior advisor, recruiting strategy and partnerships for India, her goal is to increase Lehigh's presence in the country.
Anu Arora to work on behalf of Lehigh in India