Global Partnerships and Strategic Initiatives is the central point of contact and coordination for international activities undertaken by Lehigh's colleges and units, and for external institutions that want to engage with Lehigh University.
We advise at all stages of partnership development, including identifying funding opportunities; developing custom programs; hosting in-bound exchange students, visitors and delegations; and coordinating with internal and external stakeholders.
Partnerships
As trained negotiators and organizers with cross-cultural communication and diplomatic skills, GPSI helps Lehigh faculty and staff engage globally, conduct research and learn without borders. We manage international partnerships for study abroad, faculty exchange and collaborative research efforts.
We also track Lehigh's international engagement to ensure that activities align with the university's mission and strategic goals and follow risk management and legal protocols.
Student Exchange Programs
Lehigh welcomes exchange students through a variety of agreements with partner colleges, universities and programs around the world. Whether they are here for a semester or a year, exchange students enjoy one-on-one and group mentoring, academic and personal advising and special activities designed to make the most of their experience at Lehigh and in the United States. Learn more about student exchange.
Visiting Scholars
International scholars are a valued part of Lehigh's partnership development with institutions around the world. Whether they are collaborating with Lehigh faculty or working on their own research, scholars help to further the university's internationalization efforts by building stronger connections with universities and faculty abroad.
Many who visit Lehigh are coming to the U.S. for the first time and have to navigate all that comes with moving to a foreign place. Making plans for an extended stay far away from home can be overwhelming, so even before scholars arrive, we are happy to work with them and their faculty hosts to help.
Custom Programs
GPSI develops custom short-term programs that provide intensive learning experiences and strengthen skills. Examples include professional development programs for administrators from our partner universities and the Fulbright Foundation, career-readiness and leadership programs for undergraduate students in the STEM field, and a Teachers of English to Speakers of Other Languages (TESOL) tour and classroom observation for English majors from abroad. Because GPSI works collaboratively across Lehigh's campus, we are able to work closely with partner organizations and our Lehigh colleagues to create a comprehensive program that addresses unique learning outcomes.
Note on Export Control
Export controls are federal regulations that limit the export of physical items, technology, data and information out of the U.S. for national security or economic reasons. Export control laws may apply when individuals travel outside the United States, depending on their destination, what they bring with them, and what they plan to do while abroad. Lehigh faculty, staff and students are responsible for engaging the Export Control Office as required when traveling on university business. Please review Research Integrity's export control policies and guidance, particularly the information for faculty and the information for international travelers, to ensure that you comply with all relevant export control laws and university policies.
Our Staff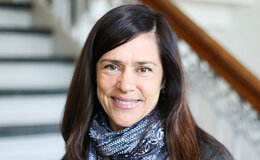 Stacy Burger