LANGUAGE ASSESSMENT VIA ZOOM IS AVAILABLE!
To maintain high education standards for all students and faculty, Lehigh University complies with Pennsylvania's Act 76, the English Fluency Act of 1990. This legislation requires that universities assess all instructional faculty and certify that they are fluent in English. ICAPE staff offers TOPSS for graduate teaching assistants at Lehigh University for this purpose. Pursuant to PA State mandate, ICAPE staff first pre-screen all graduate teaching assistants at Lehigh in order to determine if further English language assessment is required. In addition, U.S. Federation regulations require similar English language assessment for new J-1 visiting scholars/researchers.
Upcoming TOPSS/OPI Test Dates:
August 17th - August 18th, 2023 August 21st - August 24th, 2023 December 11th - December 15th, 2023
**Learn more about these tests: See information and example videos below.**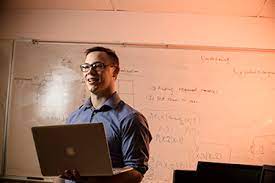 TOPSS/OPI Overview
Watch a video outlining the TOPSS. Recommended for students who have not taken the TOPSS exam before. Learn about the background of the TOPSS exam and resources available to help you do as well as possible.
GTA Pre-screening—Before assuming instructional duties, all GTAs, regardless of national citizenship or cultural and linguistic background, are pre-screened based on the following criteria: (a) 4 years of successfully completed where English was the primary medium of instruction or (b) suffiicent TOEFL or IELTS spreaking score or (c) advanced score on a Lehigh University oral interview. If further assessment is required, your department and you will be notified to schedule for one of the below assessments-TOPSS or OPI.
TOPSS—Test of Pedagogical Speaking Skills—is a three-part test, scored on a 1-4 scale, to evaluate the English proficiency of international graduate students interested in becoming teaching assistants (TA minimum score to pass: 3.5). TOPSS assesses the speaking proficiency of GTAs in a broad range of instructional contexts at Lehigh University. Testing is coordinated between your department and ICAPE staff. The scores of this assessment can only be used for GTA placements at Lehigh University and are not necessarily transferrable to other institutions. To assume a full range of GTA duties, you will need to receive a score of at least 3.5. If you score below a 3.5, you must meet additional English language requirements and retake the test before working as a GTA. These requirements do not negate or replace the English language requirements in your graduate acceptance letter. If you do not plan to begin GTA duties immediately, you can wait to complete the requirements.
OPI--Oral Proficiency Interview--is a 30-minute interview (maximum) that serves as an alternative to TOPSS for some students, faculty, staff or new J-1 visa holders (TA minimum score: 3.5; J-1 scholar/researcher minimum score: 2.5).
Please register in advance to receive the Zoom link to the workshops.
Introducing Communicative Roles and Tasks of GTAs and How They are Shaped by Culture
Facilitator: Mark Ouellette (mao417@lehigh.edu)
Date: August 18th, 2023 (Friday) 9:30 am - 10:30 am (EST)
Location: Maginnes 103
*What does it mean to be a teaching assistant at Lehigh? This workshop will focus on introducing some of the language and cultural skills that are required as a teaching assistant. Additionally, students will be introduced to ways to practice and prepare themselves to be successful.
**Click
here
for a printable copy of the ICAPE Summer 2023 Workshops**
If you have questions, please email topss@lehigh.edu.
Learn About
the

TOPSS Test