During her four years at Lehigh, Savannah Boylan '15 participated in just about every international experience available to undergraduates.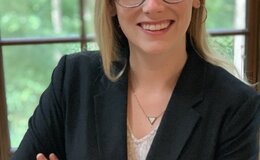 She was a United Nations Youth Representative, joined the Global Citizenship Program, completed an Iacocca International Internship and served as president of the Global Union, an umbrella group of student clubs and organizations. Her involvement began before she even started classes – she moved in early so she could participate in the GlobaLehigh preLUsion, a pre-orientation experience for first-year students that includes a visit to UN headquarters in New York.
Boylan planned to major in international relations because she wanted to learn more about how governments work together. Inspired by her visit to the world's largest intergovernmental organization, she soon began attending UN events on campus.
"When I talk about my Lehigh experience, people say, 'Wow, you must have known all of these opportunities existed and that's why you applied,'" Boylan says. "I absolutely had no idea that these opportunities were available when I applied! It was amazing to be to go to the UN and see how something that you might be studying actually operates and see the impact that civil society can have on a multilateral conversation."
Eventually, she joined Lehigh's United Nations Youth Representative Program, which matches students with UN-accredited non-governmental organizations (NGOs) to serve as that NGO's voice at the UN. Youth Representatives attend briefings, conferences and private meetings with officials on behalf of their NGO.
As a Youth Rep, Boylan represented Lehigh, which in 2004 became the sixth university in the world to gain NGO status. She chaired the first briefing on youth empowerment actually led by youth, spoke at the United Nations Academic Impact conference in 2015, and moderated a panel discussion at the UN with Nobel Peace Prize winner Jodi Williams.
"My goal was to try to bring more of a youth voice to the United Nations," says Boylan. "There aren't a lot of youth voices there, and it's an important perspective. Students have so many unique and creative ideas to contribute."
Boylan had another chance to see international relations in action through the Iacocca International Internship Program. As an intern at Georgia's State Ministry for European and Euro-Atlantic Integration, which coordinated the former Soviet republic's efforts to join the European Union and NATO, she helped organize an international conference for Georgian government and EU leaders and worked on English-language documents and speeches.
"It was a life-changing experience," she says. "I could study theory and policy in my academics, but my internship made everything so much more tangible. At the time, democracy in Georgia was as young as I was. I could just feel kind of this excitement from the people working there that they really cared and believed in what they were doing and saw the greater purpose in their work."
A year later, in the summer before her senior year, Boylan was able to get a slightly different perspective on democracy in Eastern Europe. She was an intern with the U.S. Department of State's Bureau of European and Eurasian Affairs, where she helped develop standards of democratic practice in Georgia and neighboring countries and led research on potential NATO entrants regarding areas like democracy and rule of law.
I've lived in a country where people still remembered what it was like not to have democratic institutions and freedoms. When I see the freedoms that the country of Georgia fought so hard for eroding in my own backyard in the U.S., it makes an issue that seems foreign very personal.
After graduation, Boylan began working at the Wilson Center, a non-partisan policy forum focused on global issues. Over the next several years, she developed strategic projects for the Canada Institute to help educate policymakers and the public on the importance of the U.S.-Canada relationship and managed the Urban Sustainability Laboratory program. She also completed a master's degree in project management at Georgetown University.
Then, in 2019, Boylan decided to make a big move. She launched For Democracy, an "independent, nongovernmental organization working to strengthen democratic institutions and norms through research, events and civic action."
"I had been working in foreign policy for about 10 years and had spent most of my career looking at relationships between countries and the importance of strengthening democracy worldwide," she says. "I realized that democratic backsliding was happening at home. I wanted to combine my previous experience working internationally with promoting democracy in the U.S."
Boylan was born and raised in the state of Georgia, where recent elections have been highly controversial. In 2018, the Electoral Integrity Project at Harvard University ranked Georgia 51st among all U.S. states and the District of Columbia; it was the only one designated a state with "low election integrity." Boylan says her international experiences have given her a perspective that allows her to put current events at home in a broader global context.
"I've lived in a country where people still remembered what it was like not to have democratic institutions and freedoms," she says. "When I see the freedoms that the country of Georgia fought so hard for eroding in my own backyard in the U.S., it makes an issue that seems foreign very personal."
Through For Democracy, Boylan puts out policy reports and analyses and works to protect the right to vote. She is also currently a visiting fellow at the European University Institute's School of Transnational Governance, where she is researching the rise of illiberalism in Europe and its effects on multilateral organizations, as well as a foreign service officer at the Consulate General of Canada in Atlanta.
Boylan urges students at Lehigh today to seek international experiences, noting that they don't even have to go far to do so – "The United Nations is just a short bus ride away!"
"If they do go abroad, I would encourage everyone to go somewhere that might not be the most popular study abroad destination," she says. (In addition to her internship in Georgia, as an undergrad Boylan went to Malaysia with the Global Citizenship Program.) "There are so many amazing opportunities when you're a student that are a lot harder to recreate outside of those four years."
Reflecting on her career so far, Boylan says she's grateful to be doing work that's personally meaningful to her, even if finding her way as a young woman in the field of international policy has been challenging at times. She encourages other women professionals to find female mentors.
"Having a community of incredible women foreign policy leaders has been one of the biggest reasons for my success," she says.
"It's wonderful to celebrate 50 years of women at Lehigh," she adds. "But I think any woman would say that we still have work to do. This is a great milestone and also a call to action to continue working together as women to lift each other up, to be successful, and to change the systems that make that difficult."
Lehigh is marking the 50th year of undergraduate coeducation with Soaring Together, a university-wide celebration of the impact and contributions of Lehigh women – past, present and future. As part of the campus-wide celebration, the Office of International Affairs is recognizing Lehigh alumnae who have made a difference on campus and around the world. Learn more about Women with Global Impact >