The Global Citizenship Program invites you to cultivate an ethical stance, a critical way of thinking, and a committed mode of intervening in a world populated by others with whom we must co-create a viable future.
It emphasizes collaboration across disciplines, professions, and the human variety of cultural, political and other experiences, and welcomes students from any college or major.
Whether you plan to be an engineer or an artist, head into the start-up world or go on to med school, we believe that a global citizenship orientation can critically inform both your personal life and professional practice. As a group, we will dive into the biggest questions humanity is grappling with:
How do we live with others, respecting difference without abandoning our beliefs or forcing others to assimilate to us? How do we find peaceful ways to disagree? How do we protect our planet and its non-human residents both now and for the future?
The program:
Offers a big picture focus around both philosophy and practice
Provides a frame and forum in which to make sense of your many experiences at Lehigh
Mixes coursework, experiential elements, less traditional projects and varied modes of practice that take you from quarantine to campus to the South Side to the world
Includes a unique cohort experience with a group study trip abroad in sophomore year
Culminates with two non-traditional keystone courses senior year that link self, other, practice and leadership
Balances a critical lens with hope, seeking out positive examples of everyday and exemplary global citizenship practice
APPLICATION PROCESS
To be eligible to apply to the program, you must enroll in GCP 010 during the spring term of your first year at Lehigh. Successful completion of this course is a pre-requisite for application to the program.
PROGRAM REQUIREMENTS
Program requirements include coursework, study away experiences, and final projects.
Six core courses

GCP 010 Introduction to Global Citizenship – spring freshmen year
GCP 185 Cosmopolitanism and Culture I – fall sophomore year
GCP 186 Cosmopolitanism and Culture II – spring sophomore year
GCP 285 The Citizen and the City – fall junior year
GCP 385 Global Citizenship Keystone I – Fall
GCP 385 Global Citizenship Keystone II – Spring

These courses are complemented by two electives. Note: All Global Studies courses are pre-approved. As needed, other courses can be approved by the director if they directly expand or deepen learning related to global citizenship.
Two non-US experiences

A study trip with the cohort that is embedded within the Sophomore Cosmopolitanism and the Citizen II course.
An additional individual international experience approved by the program director. This may include a semester abroad, a short faculty-led program, an Iacocca internship, summer research opportunities and other options. While the cohort study trip takes a panoramic and multidisciplinary view of global citizenship practice in a particular place; this second experience allows you to choose a tighter focus around a theme, a particular modality, or a skillset you wish to develop. In this way, the entire cohort benefits from the learning and perspectives that each individual brings back into discussion from his or her unique experience. Note: It is recommended that students doing a semester option do so during the junior academic year, but this may vary depending upon your major.
Learn more about these requirements in the Lehigh University Course Catalog.
Our Faculty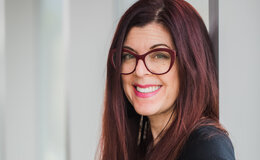 Angelina Rodríguez