Raven Gaddy '15 has studied and worked in six countries on four continents. In fact, when the pandemic cut her stint in the Peace Corps short in 2020, she hadn't spent significant time at home since she started boarding school at age 14.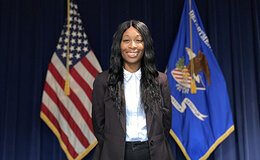 Gaddy says her love of travel goes back to her first trip abroad with classmates in middle school.
"I was just so mystified at seeing other cultures, other people who didn't look like me," she explains. "I come from a single-parent, low-income family. When I was able to see just how vast the world is, it captivated me."
Gaddy grew up in Hartford, Connecticut, and attended Choate Rosemary Hall, a preparatory school in nearby Wallingford. There she joined service trips to Fiji and Costa Rica and studied abroad in Rome. When it was time to apply to colleges, she set her sights abroad. She was accepted at the American University of Paris (AUP), but her family was hesitant – she didn't speak French, and the university didn't have dormitories. Her college counselor suggested an alternative that was closer to home and still offered plenty of international opportunities: Lehigh University.
"I never actually set foot on campus until move-in day," Gaddy says. "It was raining, and I remember pulling up to Richards and thinking, 'What did I get myself into?'"
Gaddy struggled with the transition to college, ending up on academic probation after her first semester. She says it was the wakeup call she needed. She changed her major to global studies and found a mentor in Jack Lule, professor of journalism and the program's director at the time.
The Global Studies Program is intentionally flexible so students can follow their interests. It was the perfect fit for Gaddy. Soon she added a second major in Africana studies and a minor in sustainable development.
"I'm very much one of those scholars where once I get into something, I start picking up everything," she explains. "I'm like a sponge. Any little thing that interests me, I just soak it up."
I realized that in order to affect actual change, it is most helpful to actually view people as individuals, not a generalized group, and try to see their experiences firsthand.
A Trip Abroad Offers a New Perspective
In the spring of her sophomore year, Gaddy traveled to Kenya with a course taught by Mark Orrs, then the director of Lehigh's Sustainable Development Program. There, the students worked on a project helping "street kids" and a girls' soccer nonprofit in the Dagoretti area of Nairobi. Gaddy says learning from Orrs and working alongside Dagoretti residents changed the way she thinks about travel.
"Professor Orrs asked us to think about our impact as Westerners coming into a place and trying to 'teach people things,'" she says. "He explained that in the field of development, you need to think about cultural implications, the longevity of your impact and so on. That flipped a switch for me, and my abroad experiences became much more intentional."
Gaddy returned to Nairobi to work with the same partners in spring 2014, this time as part of an international social entrepreneurship course taught by Orrs and Todd Watkins, professor of economics.
"Traveling to Kenya was an important turning point for me," Gaddy says. "I realized that in order to affect actual change, it is most helpful to actually view people as individuals, not a generalized group, and try to see their experiences firsthand. Getting to go on this trip not once, but twice, encouraged me to travel to the places I have studied to mitigate any biases or misunderstandings that are often created by distance."
Gaddy's desire to see things for herself also brought her to the United Nations, where she worked as a Youth Representative for the African Citizens Development Foundation. And she completed an Iacocca International Internship in Milan, Italy, for an educational charity that plants gardens to commemorate victims of genocide.
In her senior year, Gaddy returned to Africa, this time for a semester with SIT Study Abroad called Morocco: Field Studies in Journalism and New Media. She lived with a host family in the medina – or walled old town – of Rabat. On the weekends, she traveled to other parts of Morocco, interviewing people and learning how to tell their stories to a wider audience. For her independent study, she and two classmates spent weeks talking with sub-Saharan migrants and activists in the neighborhood of Taqqadoum, ultimately writing a report on the victimization of migrant women.
"I actually didn't originally plan to go to Morocco," Gaddy says. "I was angling to go to Egypt, as I had studied Arabic and my teacher at Lehigh was Egyptian. Nonetheless, Morocco was so beautiful, and I loved the chance to flex that language muscle.
"Going to Taqqadoum to interview sub-Saharan migrants showed a very familiar experience, quite similar to African Americans in the United States, which was heartbreaking. Being dark-skinned, most assumed I was also a migrant and children even threw rocks at me and another Black American classmate, shouting 'Ebola.' My family was very loving, protective and supportive, but I very much had a conflicted experience. Despite the difficulties, it was definitely worth it."
From Lehigh to Paris to Madagascar ... and back again
In Morocco, Gaddy began the process of applying to graduate schools. Her first choice? The American University of Paris. And this time, she was actually able to go. She majored in international affairs, with focuses on gender, education and equity. She also took courses in international law, including a two-week practicum in the Hague, the location of the International Court of Justice and International Criminal Court.
"I try to be very cognizant of impact, and I think that's why international affairs interests me," Gaddy says. "I just strive to be as knowledgeable as I can so that whether I'm in my own backyard or overseas, I am truly making the world a better place, not just feeding my wanderlust."
During her program, Gaddy interned at the OECD, an intergovernmental economic organization headquartered in Paris. She stayed on as a consultant after completing her master's degree. Gaddy says that working in the OECD's Directorate for Education and Skills was another turning point.
"I was surrounded by policy analysts from all over the world, talking about education and skills and why some countries are behind others," Gaddy says. "From my time in Africana studies at Lehigh, I had a lot of questions about Western influence on developing countries. I was skeptical about the idea that Westerners can go over and teach developing people things and their communities will get better."
Once again, Gaddy decided she needed to see things for herself. Inspired by the experiences of Bruce Whitehouse, a Lehigh professor, she decided to join the Peace Corps. She was assigned to teach English at Antsiranana Higher Institute of Technology, a technical school on Madagascar's northern coast.
"It was nothing like what I expected it would be," Gaddy says now. "Everyone tells you Peace Corps is hard, but you never actually know how hard it is until you are dropped somewhere by yourself."
She says it was particularly difficult because her students and other people she met were expecting to work with a white man, not an African American woman, and it was hard to establish authority in a male-dominated university. Still, the experience was valuable.
"It's so easy in academia to get kind of a big head because you have these degrees, you've read all these books," Gaddy says. "But none of that means anything when you're sitting face to face with someone and what you've learned in a book isn't their reality. It was important for me to really humble myself and take my students' lead, take the other teachers' lead, and find ways where I could be useful."
When she wasn't teaching, she worked on projects at a women's prison and a home for at-risk youth. She says she wanted to find opportunities "that still fulfilled my Peace Corps mission but put the host country nationals first."
Gaddy was 19 months into her 27-month assignment when the Peace Corps recalled all volunteers because of the COVID-19 pandemic. It was an abrupt end, and it took some time to adjust. Living back at home with her mother, unable to travel, Gaddy realized she had missed a lot while she was abroad.
"I'd not been in one place in a really long time," she says. "I knew coming home that I wanted to be a little bit more stationary, but at the same time, still give back to my community and give back to my country."
She found the right opportunity in the federal government, joining the Department of Justice as an International Affairs Specialist in the Office of International Affairs within the Criminal Division.
"I ended up helping trial attorneys with cases in 10 different countries in a year," she says. "Getting to be part of that process, especially being a non-attorney, was so unique and so special."
In January, Gaddy began a detail as an administrative officer in the Office of the Assistant Attorney General. She enjoys working in the federal government and being back in the U.S. She has reconnected with old friends, and with Lehigh, where she's the executive co-chair of BALANCE, the Black and Latinx Alumni Network for Community and Equity. She says that as an undergrad, she was inspired by the students who came before her, particularly students of color, and now she wants to give back in the same way.
Service has always been important to Gaddy. As a student, she was a part of Lehigh's African-Caribbean Culture Club and Black Student Union, served as an Orientation Leader, managed the Lehigh men's basketball team, served as an assistant teacher for Professor Kashi Johnson's Act Like You Know Hip Hop Theater Course, led the Umoja House Residents Hall Council and helped charter a chapter of Sigma Gamma Rho Sorority, a historically black sorority. Now, in addition to co-chairing BALANCE, she is also a member of Choate's Alumni Association Executive Committee's Equity and Inclusion Ad Hoc Committee and an alumni mentor in AUP's Global Mentor Program.
"It's important to me to help others, to be there for people," Gaddy says. "If you find any sort of success, you should be using that to help other people, even if it's just for five minutes. You never know how much impact you could have on someone else."