Patricia Chaves '92G was only at Lehigh for two years, but her experience had an indelible impact. It changed the way she thought, and eventually helped her achieve her dream of working for the United Nations.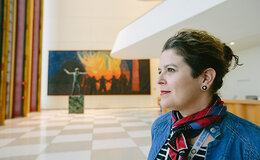 Chaves came to Lehigh as an international student from Costa Rica to get a master's degree in government. Her transition was rocky – she struggled with the level of English proficiency required in a graduate program, and also with the style of learning and its emphasis on critical thinking.
"I flunked my first course," she says. "My education in Costa Rica was very much about memorizing. At Lehigh, I could read the material, but I had to learn how to analyze it, connect the dots, compare. Lehigh retrained me in how I approach learning, and how I want to apply that learning to very practical situations."
In her program, Chaves focused on economic policy and international development.
"I come from a very small country," she explains. "Its survival – economic, social, cultural – depends a lot on international collaboration. This drove me to study in an international environment where a small country can thrive."
After graduating from Lehigh, Chaves began a career in foreign service, first serving as Minister Counsellor of the Mission of Costa Rica to the United Nations from 1994 to 1998 and from 2000 to 2003. During that time, she represented Costa Rica as principal negotiator in meetings related to environment, finance, forests, macroeconomics and sustainable development.
The Sustainable Development Goals may not seem that easy to implement, but they can be implemented. I believe that the Goals are truly the only path to a better world
Sustainable development was particularly important to the president of Costa Rica during Chaves's first stint as Minister Counsellor, José María Figueres. He wanted to increase the productivity of Costa Rica's economy and better integrate it with the global economy, while also preserving the country's distinctive natural environment.
"It was my first taste, really, of the process of policymaking at the global level and how sustainability can be advanced by a joint effort," says Chaves of serving as Minister Counsellor. "I had a leader that inspired me to continue a career in sustainability, and I had an opportunity to represent a country that was very active in its sustainability foreign policy."
In between her years with the Costa Rican Mission, Chaves was a negotiator with the UN's Intergovernmental Forum on Forests. She helped establish the Costa Rica-Canada Initiative on Forests, a process to identify what would be necessary to have a legally binding international agreement to protect forests. She had to bring together multiple parties, with different and sometimes competing priorities, and help them move toward consensus.
"Even if my passing through Lehigh was short, it made a lasting impact in how I approached my career after," says Chaves. "Whether you are an engineer or in economics or in the arts, Lehigh gives you a very practical training. Students learn about teamwork, decision-making, leadership, and vision. My passage through Lehigh was crucial to getting access to an international career."
Then in 2005, Chaves was appointed Senior Sustainable Development Officer at the UN Division for Sustainable Development. Her work shifted from representing Costa Rica to supporting other countries. Now she helps governments and other stakeholders achieve the UN's 2030 Agenda for Sustainable Development and its 17 Sustainable Development Goals (SDGs), like zero hunger, gender equality, climate action, and ultimately, no poverty. The division changed its name in 2018 to the Office for Intergovernmental Support and Coordination and it supports the High-Level Political Forum on Sustainable Development, an annual meeting to review progress toward the implementation of the Agenda and the SDGs.
"We help countries prepare to report at the forum and offer training and support to members of civil society to more effectively participate at the UN," she says.
"The SDGs may not seem that easy to implement, but they can be implemented. And if we don't implement them, I don't want to think how the world is going to look by 2030 – I'm scared of a future without achieving the SDGs. I believe that the Goals are truly the only path to a better world."
In addition to making an impact on the world stage, Chaves has looked for ways to give back, or as she says, "open doors for people." She has maintained her ties to Lehigh, advocating for increased international engagement. She helped launch the Lehigh in Costa Rica study abroad program, which brings students to the Central American country to study sustainable development and natural history every winter and spring, and she works closely with the Lehigh University-United Nations Partnership.
"When students come to the United Nations, they can see how international decision-making is done. You can tap into most of the countries in the world here – there's no other institution that does that," she says.
She has also opened doors in Costa Rica. "I'm still very much in love with my country, even if I'm an international public servant," she says.
Beginning in 2017, Chaves took leave from her UN duties and connected to the work of Fundación Monge, an organization that helps young women and men in Costa Rica and other countries in Central America complete high school and gain the skills they need to enter the workforce. Fundación Monge's programs aim to support young people in vulnerable situations to reach their full potential and visualize a better future beginning by getting their high school diploma. Based on one of her ideas, the organization incorporated a virtual reality component to its programs. They received a grant from the Inter-American Development Bank to develop a computer game, Geekonia, that teaches soft skills like critical thinking, teamwork, communication and problem-solving. These skills are highly sought after by companies and other organizations when recruiting young employees.
"I always admire younger generations, how they see the world differently, how they are more daring and how activism is an important part of their lives," Chaves says. "Now that I am approaching the end of my career, I'd love to do more mentoring, and try to support young women in particular. We're watching the environment get destroyed and there's not enough decision-making happening. But we need to be optimistic. I want young women to feel their value and to know that they can make a difference."
Hear Patricia discuss her experiences at Lehigh and her work with the UN and the SDGs as part of the GO Getters podcast >
Lehigh is marking the 50th year of undergraduate coeducation with Soaring Together, a university-wide celebration of the impact and contributions of Lehigh women – past, present and future. As part of the campus-wide celebration, the Office of International Affairs is recognizing Lehigh alumnae who have made a difference on campus and around the world. Learn more about Women with Global Impact >