When Morgan Volkart '06, '10G first arrived at Lehigh, she was overwhelmed. She was 2,500 miles from her home in Las Vegas, Nevada, and she didn't see many other people like her.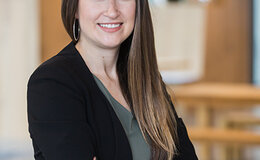 "Lehigh was a very different place 20 years ago," Volkart says. "There weren't many other students who were the first in their family to go to college. There definitely wasn't anyone else from Las Vegas or a significant number of people from the West Coast."
Still, Volkart knew that Lehigh was the right match – a top university that offered full financial aid, where she could play Division I volleyball. The team offered a ready-made community, and her coaches and academic advisor offered additional support.
"I was also able to form close relationships with some of my professors," Volkart adds. "They helped me make the most of my time at Lehigh and do more than I thought was ever possible in four years."
Thanks to that ability to make connections and her readiness to pursue new opportunities, Volkart has stayed at Lehigh, continuing to advance her education – and her career – well beyond those first four years. Now she is helping make the student body more geographically diverse and international, ensuring that the next first-year student from Las Vegas doesn't feel alone.
Volkart had developed an interest in language and cultures while growing up in Nevada, one of the most diverse states in the U.S. She enrolled at Lehigh as a chemistry major, but decided to take some Chinese courses too.
"I had some great professors," she says. "I continued to take courses with them even as I was trying to figure out my major. Little did I know that these courses that I was just taking for fun would ultimately become what I wanted to focus on and my passion."Volkart ended up majoring in sociology and Asian studies. To complement her Chinese courses, she wanted to join the Lehigh in Shanghai study abroad program, which included two weeks of intensive language study and a four-week internship. There was just one problem: Her financial aid didn't cover the program, and she couldn't afford it otherwise. Then a professor stepped in.
"Professor Connie Cook, one of my mentors in the Asian studies program, suggested I apply for two department scholarships, which I had no idea existed," Volkart says. She ended up receiving enough funding to go to Shanghai, where she taught English at a local middle school for her internship. "In telling me about those scholarships, Connie created this opportunity that helped me figure out what I wanted to do later on. While I didn't know exactly what that was, I knew education was going to be part of it after Lehigh in Shanghai."
Volkart says another formative experience was taking the class "Sociology of Education," where she realized how unusual it was for someone like her – a first-generation student with high financial need, from a place where going to college wasn't the norm – to end up at a university like Lehigh.
"That class helped me understand the systems that create obstacles for students that are very difficult to overcome if they don't have support," she says. "I really wanted to be able to help students wherever they were in the world to have that opportunity like I did to go to a school like Lehigh."
After graduation, Volkart returned to Shanghai to teach English and study at Shanghai Jiao Tong University. By chance, she reconnected with Cook, the professor who helped her go to China the first time. Cook mentioned a new graduate program at Lehigh called Comparative and International Education and suggested Volkart apply. It turned out she had once again opened a door.
In 2008, Volkart was back at Lehigh, getting a master's degree in globalization and educational change. She worked a graduate assistant, editing manuscripts, coordinating events like International Education Week, and collaborating with staff in Lehigh's Office of International Affairs. She also interned with United Nations Academic Impact, helping higher education institutions in Asia connect with the UN.
I really wanted to be able to help students wherever they were in the world to have that opportunity like I did to go to a school like Lehigh.
"That was a turning point for me," she says. "I got to learn about all these other professions in the world of international education other than what I had already experienced with teaching English overseas."
Volkart finished her M.Ed. in 2010 and stayed at Lehigh to work as a study abroad advisor. Then in 2012, she learned the Office of Admissions was looking for a new director of international recruitment. She decided to switch her focus from outbound mobility – helping students go abroad – to inbound – bringing international students to study in the U.S. She has been in that field ever since.
"It's been almost 10 years now and this is definitely my calling," Volkart says. "I love getting to know the students and seeing the contributions they make on campus and the opportunities they take advantage of. It's just so rewarding to me."
Through her admissions career, Volkart has traveled to more than 40 countries. And eventually, it brought her back to the Western U.S.
In 2016, Lehigh launched the Western Regional Office (WRO) in the San Francisco Bay Area, to engage more directly with prospective students, foster new industry partnerships and better connect with alumni. Volkart joined the WRO in 2017 as associate vice provost for Western region and international recruitment.
"Now I'm helping to bring in more diversity geographically and socioeconomically within the United States, as well as internationally," she says. "When I think back to my first years at Lehigh as an undergrad, it wasn't a very diverse place. Now I get to be a part of making Lehigh better."
Volkart says the sort of direct, sustained engagement with students that Lehigh's Western presence allows is especially important for first-generation or low-income prospective students, who may not have a lot of support in the college application process and aren't likely to be able to visit campus. The WRO is also working to extend Lehigh's renowned alumni and industry networks so students have the option to get internships or jobs closer to home, like she did.
When asked about advice she would give new students coming to Lehigh, Volkart reflects on her own experience and the support she received from faculty, staff and professional mentors.
"Allowing people to really get to know you on a personal level is important," she says. "It can be hard because it does sometimes require vulnerability, but the more that they're able to understand your interests, the more they're able to connect you with the right kinds of opportunities and help you learn how to obtain those opportunities."
And of course, she can't resist putting in a plug for study abroad, like the summer program that first set her on the path toward international education.
"I think a lot of Lehigh students think about the opportunities that exist in the Northeast," Volkart says. "But when you have an international experience, it opens you up to opportunities that exist all over the world. Whether you think you want to do it or not, just meet with someone in the study abroad office and talk about it."
Lehigh is marking the 50th year of undergraduate coeducation with Soaring Together, a university-wide celebration of the impact and contributions of Lehigh women – past, present and future. As part of the campus-wide celebration, the Office of International Affairs is recognizing Lehigh alumnae who have made a difference on campus and around the world. Learn more about Women with Global Impact >