Klaudia Jaźwińska '18 describes herself as "a first-generation university graduate whose academic exploration of culture, technology and justice has spanned five continents." Her work lies at the intersection of technology, media and ethics.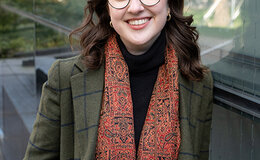 It began in her first weeks at Lehigh, when she connected with the Journalism Department, and started working at The Brown and White. She says the student newspaper gave her a home and a sense of purpose – she was learning about the Lehigh community, reporting on it and contributing to it. Eventually, she became an editor, then managing editor and, in her final semester, editor in chief.
In addition to journalism, Jaźwińska majored in global studies, an interdisciplinary program about globalization in all its aspects.
"I took classes across the social sciences, from religion to political science to sustainable development," says Jaźwińska. "I loved having that very wide-ranging education. I was glad to have an academic experience that supported my curiosity – taking these classes helped me to understand the world better, and then I was able to combine this knowledge with my journalism skills to tell stories about it."
Global studies majors are required to have an international experience, preferably a semester-long study abroad program. Jaźwińska first spent a summer in Milan, Italy, through the Iacocca International Internship Program, working as a communications intern at an international magazine. Then, in spring of her junior year, she participated in SIT Study Abroad's International Honors Program (IHP).
IHP is a multi-country comparative program in which students examine a single issue across multiple cultural contexts. Jaźwińska's program focused on social entrepreneurship and innovation. Over the course of the semester, she spent several weeks each in San Francisco, Uganda, India and Brazil, living with local homestay families and learning about how social innovation is applied in different contexts. The program included courses and guest lectures, case studies, visits to local social enterprises and organizations, cultural experiences and exploration of each country.
"It was a life-changing experience," Jaźwińska says. "It was an emotional roller coaster to go from one place to the next because they were such different cultural contexts and also family structures in my homestay hosts. It really expanded my understanding of the world."
Data is not neutral. It's all embedded with values. Whose values are we perpetuating?
After her four-country tour, Jaźwińska returned to Lehigh's campus for the Mountaintop Summer Experience, where she was part of an interdisciplinary team studying the effects of social media algorithms on people's news consumption and political engagement. They developed a prototype of an app called Polytics that scans a user's social media feed, analyzes the ideological leaning of the news sources they follow, and suggests additional sources to "pop their bubble."
"Prior to this project, I hadn't thought as much about how innovations in technology and media were impacting society," says Jaźwińska. "That project was instrumental in me thinking about the value of data and storytelling. It made me think critically about the fact that technology is really shaping our world and we need to be able to explain that and interrogate it."
At the same time, Jaźwińska was still processing her recent abroad experience and adjusting to being back in the United States.
"I returned from this whirlwind semester where I had learned so much about the world in so many different ways, and I was like, 'How did I get here, who am I now and what do I want to do next?'" she says.
She met with Jenny Hyest, who was then the assistant director of fellowship advising. Many of the nationally competitive fellowships and scholarships that the office helps students apply for require personal statements; successful applicants need to understand who they are as a student and who they aspire to be in the future. Hyest suggested that Jaźwińska channel her questions into an application essay. Ultimately, Jaźwińska ended up writing what she calls "a sort of manifesto" and applying for the Marshall Scholarship. She became the first Lehigh student to receive a Marshall in 40 years.
The Marshall funds two years of graduate study in the United Kingdom. Jaźwińska initially planned to pursue a master of science degree in computational and data journalism at Cardiff University and then study international relations at the University of Cambridge.
At Cardiff, Jaźwińska learned how to identify trends in data sets and use computational tools and storytelling to explain those trends. But, she says, she often found herself "butting heads" with the instructors.
"I'd get stuck because I'd look at the data and have questions," she says. "Who collected this data? What questions did they ask to arrive at these results? What biases might be embedded in this? What biases might we be perpetuating as journalists if we just blindly rely on this data? Data is not neutral. It's all embedded with values. Whose values are we perpetuating? I wasn't getting satisfactory answers."
So for her second master's degree, Jaźwińska decided not to go to Cambridge. Instead, she found a program in the media and communications department at the London School of Economics that focused on data and society.
"The program allowed me to explore precisely the kinds of questions I wanted to ask," she says. "I realized that there are so many ways that technology is shaping the world, and if the responsibility of journalists is to hold power to account, then we're going to have to figure out how to do this with Big Tech. Tech companies have more power than some governments, yet they're significantly less transparent."
For her master's thesis, Jaźwińska interviewed activists working in the tech industry about their efforts to hold their employers accountable for the social harms caused by their technologies. This research led her to become interested in both how technology is shaping labor, and how workers might be able to shape technology. Now she's an Emerging Scholar at the Center for Information Technology Policy at Princeton University, a new program that "provides scholars with an opportunity to pursue their passions as they delve into critical issues of technology and society through research, coursework and mentoring," according to Princeton. One of her primary research interests is how technology affects laborers and work.
"The other overarching theme of my academic research and journalistic reporting is accountability," Jaźwińska said in an article about the program. "I am interested in the power and influence that technologies and the companies that create them wield in our society, and how policymakers, academia, the press and other countervailing powers can work to keep them in check."
Jaźwińska isn't sure what comes next, especially as the fields of both journalism and technology are changing so rapidly. But she expects to continue using her storytelling skills and asking big questions.
"What impact is technology having on our society?" she says. "How do we ensure that it's serving us and not harming us, and that progress and innovation are aligned? Sometimes they're seen as synonyms, but I think that can be very dangerous. Not all innovation is progress."
Lehigh is marking the 50th year of undergraduate coeducation with Soaring Together, a university-wide celebration of the impact and contributions of Lehigh women – past, present and future. As part of the campus-wide celebration, the Office of International Affairs is recognizing Lehigh alumnae who have made a difference on campus and around the world. Learn more about Women with Global Impact >