When Kira Mendez '83 arrived at Lehigh in September 1979, she was one of only a handful of women in the electrical engineering program. The university had been admitting undergraduate women for just eight years, and the school's chapter of the Society of Women Engineers was half that old.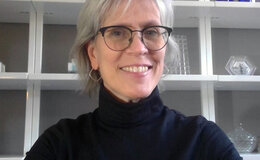 Still, Mendez knew Lehigh was a place where she could get a strong engineering education, and she says, "It fit my naïve concept of what a college should be – it looked like 'real' college."
Beyond the picturesque campus, Lehigh offered Mendez numerous opportunities outside her academic program. She joined music ensembles, including Marching 97, took classes in art, and contributed to The Brown and White.
"Lehigh was important to my growth because it showed me what was possible," she says. "Because there were so few women in my major, succeeding at Lehigh gave me the confidence that I could jump into any environment and thrive."
After graduation, Mendez spent her days working at United Technologies in jet engine fuel controls and her evenings completing a master's degree in electrical engineering from Rensselaer Polytechnic Institute. But she soon realized her interests lay elsewhere.
"When I was doing engineering design, I wasn't getting the people part of the equation," she says. "The things that most intrigued me were how things worked within the company and how things worked between the company and the customers."
She moved to Boston and enrolled at Harvard Business School. After completing her MBA, she launched a career as a management consultant.
"For me, that whole rapid-fire, seeing different situations, over and over again, was a tremendous way to learn and very energizing," Mendez says. "It gives you an inside view of what's going on in a company and some of the personal barriers that people who are managers and actors inside the company face."
As a consultant, I had worked with leaders facing the challenges of working across cultures. I thought that a deliberately created, diverse and intensive program could help individuals develop this capacity.
Ten years after leaving Lehigh, Mendez ran into one of her old professors at a conference in New York. Roger Nagel was a professor of computer science and had been the advisor of her senior project. When they reconnected, he was also the deputy director of the Iacocca Institute, a center founded by alumnus Lee Iacocca '45 that worked across the university's four colleges, as well as with industry and government, studying how to create leaders who could excel in the 21st century. Inspired by the Institute's cross-disciplinary vision, Mendez started collaborating on projects like new models for executive education, a speaker series and workshops.
When Nagel and his team decided to create a program for Lehigh students that would help them develop global perspective and leadership skills, Mendez saw it as an opportunity to innovate at a time when the business world was becoming increasingly interconnected.
"As a consultant, I had worked with leaders facing the challenges of working across cultures," she says. "They needed to learn how to transfer their knowledge to different areas and manage networks of fluid relationships across blurred boundaries of industries and countries. I thought that a deliberately created, diverse and intensive program could help individuals develop this capacity."
Peter Likens, then Lehigh's president, suggested piloting it as a summer program and opening it up to students and young professionals from around the world. And thus, in June 1997, the Global Village began with 53 participants. Today, the Village brings adult professionals from around the world to Lehigh for five weeks each summer to learn leadership skills and how to work across cultures and thrive in a global community. It has become the Iacocca Institute's flagship program, inspiring additional programs like the Iacocca Global Entrepreneurship Intensive for high school students and Global Village on the Move, and kickstarting Lehigh's international engagement.
Mendez participated in 15 of the first 20 Villages, as a facilitator, project mentor or friend.
"The Global Village was as much a part of my own professional development as it was a contribution to Lehigh's international programs," she says.
"In 10 years, I went from not being out of North America to going to more than 50 countries. Engagement with the Global Village community helped me get more international experience and more dimension to my understanding of leadership and collaboration."
As her perspective broadened, her career in strategy consulting changed focus. She joined the Bridgespan Group, a consulting firm that focuses on the nonprofit sector, before becoming an independent senior advisor to social sector leaders. She also contributed to other Lehigh initiatives. She joined the Lehigh University Alumni Association, worked closely with Zoellner Arts Center and sat on the advisory boards of the P.C. Rossin College of Engineering and Applied Science and Corporate and Foundation Relations.
Then, in 2017, 20 years after helping launch the Global Village, Mendez had the opportunity to return to Lehigh in a more formal role: Director of the Iacocca Institute. She had just finished serving as president of LUAA, which she led during Lehigh's sesquicentennial celebration, and was starting her term on the Board of Trustees. She decided to step down as a trustee to lead the Institute.
"Lee Iacocca was my Commencement speaker," she says. "Obviously, it was a coincidence, but he was an inspiring voice in my head – the notion of going into the world in this purposeful way, without fear, and giving of yourself to make a change or contribution."
Looking forward, Mendez believes that the importance of global experiences will continue to grow and the work of the Iacocca Institute, with its focus on collaborative leadership across boundaries, is more relevant than ever.
"The world is changing so rapidly, and people need the skills to work together and counter polarization," she says. "Programs like the Global Village demonstrate the power of a deliberately created, diverse and intensive environment to cultivate that leadership capacity."
Lee Iacocca died in 2019 at the age of 94. In 2021, the Iacocca Family Foundation made a $5 million gift to endow the Iacocca Institute and support global initiatives. In announcing the gift, Iacocca's daughter and Lehigh trustee Lia Iacocca Assad said her father "was a visionary in understanding that global experiences impact individuals' lives, as well as the business world."
"Leaders don't just lead – they think about what happens after they leave," Mendez says. "Now with this new investment, we have a challenge and opportunity. We can expand the Institute's programs, thought leadership and partnerships, and engage more people within the Lehigh community and around the world."
Lehigh is marking the 50th year of undergraduate coeducation with Soaring Together, a university-wide celebration of the impact and contributions of Lehigh women – past, present and future. As part of the campus-wide celebration, the Office of International Affairs is recognizing Lehigh alumnae who have made a difference on campus and around the world. Learn more about Women with Global Impact >