At age 26, Carrie Rich was working at Inova Health System, where she was the senior director of Vision Translation. On her 26th birthday, Rich's boss, Knox Singleton, gave her a $100 gift card with a note attached that read, "Here is the money I would have spent taking you and your colleagues to lunch for your birthday. Now you can start to live your dream."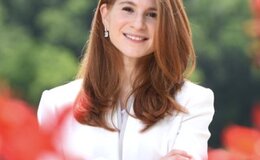 Singleton had taken on a role as Rich's mentor and was a catalyst for Rich to begin living her dream of creating a space for young leaders and seasoned executives to collaborate in a coach-mentoring style – a dynamic that Rich and Singleton had already been living on a small scale.
"I was privileged to have a boss and mentor who believed in me and invested in my leadership as a young professional," Rich says.
With her mentor's guidance and encouragement, Rich founded the Global Good Fund to pair blossoming young entrepreneurs with top executives for professional development.
"The Global Good Fund identifies leaders who stand to achieve greater social impact with executive mentorship, professional leadership coaching and capital," Rich says.
"We believe growing leaders is the most effective strategy for solving complex social problems and achieving global good, so we invest in entrepreneurs focused on solving five key social issues related to sustainable changes in education, healthcare, the environment, financial services and the economy."
Today the Global Good Fund has directly impacted more than 8.5 million individuals and only continues to grow, despite events such as the COVID-19 pandemic.
"If there was ever a doubt that our world is interconnected, COVID- 19 has certainly annihilated that doubt," Rich says. "There is so much to be learned from people across the world. My greatest lesson is that we all want the same things. We all want access to quality education for our kids, care for our elderly loved ones, clean water to drink and air to breathe, peace. By recognizing our similarities, we move the world forward and appreciate our global differences."
Whether navigating a pandemic economy or a healthy one, Rich relies on creativity in her process to grow the Global Good Fund.
I truly believe that access to the world positively changes our perspective of ourselves, and other people and places.
"At the Global Good Fund, we don't have the luxury of keeping things the same due to our size," Rich says. "We have to stay nimble and iterate to address the market, while remaining mission-driven. In order to stay relevant, especially during tough times in the economy, we need to constantly change and come up with new ideas, which is a very creative process. Last year, what that has looked like for GGF was building out mission-related revenue services to help other companies build cultures of social impact within their own organizations."
Outside of her global reach with GGF, Rich continues to give back to the Lehigh community, and stresses the importance of global education in her efforts with Passport to Success, a year-long menrorship program that connects first-generation or low-income students to high-impact learning opportunities like study abroad.
"I truly believe that access to the world positively changes our perspective of ourselves, and other people and places," Rich says. "I helped fundraise for first-generation college students so that not having a passport would no longer be a barrier to studying abroad. As someone leading a global organization, you can imagine how strongly I feel about affording opportunities for people to explore the world"
Rich's yearning to make a global difference had beginnings in her time as an undergraduate student at Lehigh, where she took a course with Steven Cutcliffe, professor of history. Not one other student registered for the seminar-style course. She was surprised the course hadn't been canceled. Cutcliffe, who was also her adviser and director of the science, technology and society program, took the success of his students seriously; he started the course that semester with a single student. Another student joined later, but it was still an unusually intense course for Rich.
"I met with Dr. Cutcliff each week to discuss books that we had read in class, and he always encouraged me to go out in the community and volunteer to make a difference," Rich says.
She also noted the influence of Judith Lasker, professor of sociology.
"In partnership with Dr. Lasker, I worked to lay the foundation for a minor health studies offering," Rich says. "It seems there has been more demand for that now because there's an entire College of Health. Seeing that evolve over time helped me to appreciate that one person can make positive change and create the type of world we want to see for ourselves and others."
Looking to the future, Rich is eager to continue to grow the reach and impact of the fund and connect more budding leaders to mentors.
"Our goal is to scale the number of entrepreneurs that we support and continue building out revenue streams that are mission related to financially support our world," Rich says. "We are a small but mighty team and having the capacity to fulfill this vision is a welcomed challenge."
Lehigh is marking the 50th year of undergraduate coeducation with Soaring Together, a university-wide celebration of the impact and contributions of Lehigh women – past, present and future. As part of the campus-wide celebration, the Office of International Affairs is recognizing Lehigh alumnae who have made a difference on campus and around the world. Learn more about Women with Global Impact >