TOMODACHI-STEM Women's Leadership and Research Program, led by two of the top-ranked research universities in the United States – Lehigh University in Bethlehem, Pennsylvania and Rice University in Houston, Texas – welcomed 10 scholars to begin their five-week internship abroad.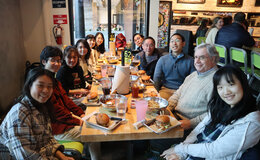 The TOMODACHI-STEM program connects female undergraduates from Japan majoring in engineering and science aims with internships in the U.S. in an effort to encourage them to pursue graduate study or further research within STEM fields. Participants gain exposure to U.S. higher education, hands-on experience in research labs, professional development opportunities, English language enrichment, and chances to culturally engage with U.S. students.
The program at Lehigh is organized by Stacy Burger, director of global partnerships and strategic initiatives, with Y.C. Ethan Yang, assistant professor in civil and environmental engineering, as the lead faculty advisor and Mary He as the program's graduate student. At Rice, the organizers and faculty advisors are Junichiro Kono, professor in the Departments of Electrical and Computer Engineering, Physics and Astronomy, and Materials Science and Nanoengineering and Alberto Pimpinelli, executive director of the Smalley-Curl Institute at Rice University. Utana Umezaki is the graduate assistant for the Rice program. Mark Ouellette from Lehigh's International Center for Academic and Professional English (ICAPE) developed a two-week virtual introduction to research and culture in the US, and language of the laboratory.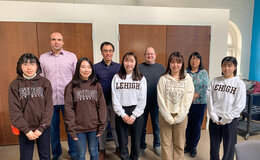 The Lehigh program began with a welcome lunch in the Global Union Lounge in Coxe Hall with staff members of Lehigh's Office of International Affairs (OIA). Scholars had the opportunity to meet their assigned Lehigh science and engineering research hosts, with whom they will collaborate in laboratory and research experience. After personal introductions, Cheryl Matherly, vice president and vice provost for international affairs, thanked the faculty, research advisors and graduate assistant for OIA, Mary He, for their support in making this program work. It has been a partnership between the Japan-U.S. Council, Lehigh and Rice University for about five years, according to Matherly.
"Our office helps students have international experiences, and this is an extension of that," Matherly said.
She added that Lehigh knows that the "nature of science is very international," so to collaborate with Japan on such an initiative is an important privilege. She told students that staff want them to be successful and involved, and they will provide support along the way.
Mako Yamada, a material sciences engineering major from Osaka University, said she did not expect to see the amount of school spirit that Lehigh students exhibited walking around campus, as students in Japan do not as often sport the apparel of their university.
In her first three days in the United States, Yamada added that she was also surprised by how welcoming and willing Americans were to speak to the new interns, even if they were strangers.
Here at Lehigh, Yamada looks forward to gaining her first ever, hands-on lab research experience.
"I've never tried research labs in Japan, so I am really looking forward to spending time in lab," Yamada said. "I also love the historical buildings at Lehigh."
The mentorship program partners scholars with professors to oversee and guide their work as research hosts. At Lehigh:
Asuka Kido, who is studying pharmaceutical sciences at Kyoto University, will work with Daniel Babcock, assistant professor in biological sciences.
Hinata Moriyama, who is studying industrial engineering and economics at Tokyo Institute of Technology, will work with Larry Snyder, professor in industrial and systems engineering.
Ayane Tezuka, who is studying physics at Nara Women's University, will work with Timm Wrase, assistant professor in physics.
Nasa Tsuchiya, who is studying aeroastro engineering at University of Tokyo, will work with Nader Motee, professor in mechanical engineering and mechanics.
Mako Yamada, who is studying material science at Osaka University, will work with Helen Chan, professor in materials science and engineering.
At Rice University:
Yukina Honda, who is studying molecular and cellular biology at Nara Women's University, will work with Michael Stern, professor of biosciences.
Yurika Ryu, who is studying pharmaceutical sciences at the University of Tokyo, will work with Omid Veiseh, assistant professor of bioengineering.
Sako Sunami, who is studying earth science at Tohoku University, will work with Kirsten Siebach, assistant professor of earth, environmental and planetary sciences.
Akiho Tanaka, who is studying applied physics at the University of Tokyo, will work with Guido Pagano, assistant professor of physics and astronomy.
Lilica Tomita, who is studying mechanical engineering at Waseda University, will work with Geoff Wehmeyer, assistant professor of mechanical engineering.
The TOMODACHI Initiative is a public-private partnership, born out of support for Japan's recovery from the Great East Japan Earthquake, that invests in the next generation of Japanese and American leaders through educational and cultural exchanges as well as leadership programs.The TOMODACHI Initiative is the core-business of the US-Japan Council, which manages and supports programs and activities that enhance strengthen educational, cultural, and economic ties and deepen the long-term friendship between Japan and the United States.