When it comes to developing innovative, effective solutions to problems, it pays to expand your perspective. That's the lesson from several summer 2018 student exchange experiences that provide new ways to bring diverse teams together to tackle problems and develop innovative solutions.
Three students from Ashoka University in India participated in summer programs at Lehigh, and three Lehigh students went to the Singapore University of Technology and Design through the US-Singapore Summer Exchange Scholarship Programme, a joint scholarship program between the two countries' governments.
From India to Lehigh
When Lehigh established its partnership with Ashoka University in 2017, student exchange programs were at the heart of the agreement. Ashoka, located in the city of Sonipat, just north of New Delhi, is one of India's premier multi-disciplinary liberal arts universities, and like Lehigh, it provides an interdisciplinary education that combines foundational knowledge with real-world experience. Administrators there were immediately interested in hallmark Lehigh programs around creative inquiry and entrepreneurship.
Last summer, an Ashoka student joined Lehigh's Mountaintop Summer Experience, a 10-week program in which interdisciplinary teams of students work with faculty mentors on an open-ended research project that will have an impact on the world beyond Lehigh. That collaboration was so successful that the Office of Creative Inquiry decided to host another student this summer.
"The world's problems are extremely complex and nothing can be truly solved by only one person or entity," says Khanjan Mehta, vice provost for creative inquiry. "The Mountaintop Summer Experience is designed to bring truly diverse teams together where they can learn one another's strengths, play by those strengths, and innovate and iterate together. Having students from Ashoka and other places brings a unique and extremely valuable perspective to Lehigh's campus, and the results -- for our students, for the world -- can only be net positive."
Srishti Agarwal, a computer science and mathematics major at Ashoka, worked on the team that developed a mobile application that improves language learning for children with cochlear implants by allowing parents and teachers to understand what the child is hearing through their implant. Agarwal helped program the app, and the team launched a beta version by the end of the program.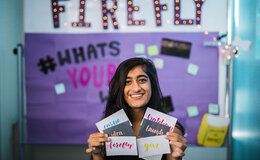 Shubhangi Poddar and Shivani Bajaj, who are both majoring in economics and finance at Ashoka, joined Agarwal at Lehigh to participate in the Hatchery Student Idea Accelerator, a 12-week summer program from the Baker Institute for Entrepreneurship, Creativity & Innovation in which participants learn the entrepreneurial process—how to use design thinking to identify a problem and potential solutions.
The program began with a two-week boot camp to introduce the students to design thinking and other fundamentals, and then continued with entrepreneurship classes, visits with successful entrepreneurs, and workshops.
Bajaj came to the Hatchery with a venture she had been working on since her first year at Ashoka, Jugnu Lights, from the Hindi word for lightning bug. Poddar began the program working on a venture with two Lehigh students that she then spun off into a concept more directly relevant to the Indian market, a personal safety device called Rakshe ("protection" in Hindi).
"This opportunity provided me with a framework and a larger understanding of what entrepreneurship means and what it takes to be an entrepreneur," says Bajaj. "It further allowed me to apply this framework while working on a venture that I am passionate about and gave me the chance to interact with a diverse group of students and understand and appreciate their passions and ideas."
One of her favorite activities was the "$5 Challenge," in which teams of students each got $5 and two hours to make as much money as they could.
"My team and I decided to sell ice cream, which seems simple enough," she says.
"But along with selling ice cream (at 10 am in the morning), we decided to serenade our customers by playing the ukulele and singing for them. This slight twist got us various memorable reactions. People would look confused and surprised but eventually crack a smile. They got some ice cream almost every time. This activity taught me about how selling a product can be converted into selling an experience."
Lisa Getzler, executive director of the Baker Institute, says that having students from other universities join Lehigh programs like the Hatchery adds to the experience for everyone involved.
"It adds diversity in so many ways," she says. "It opens a whole range of cultural exchange opportunities where students are exposed to attitudes that their peers bring from other places."
Chris Kauzmann, the Baker Institute's innovator-in-residence, says that working as part of a diverse community of fellow entrepreneurs can provide a reality check: Students have to break down their assumptions and develop better solutions.
"Entrepreneurs often get excited about creating a worldwide solution, but our experiences aren't the same around the world, or even from one college campus to another," he says. "We know that's true, and we tell students to talk to their end users, but it was valuable for students to be able to hear that from each other."
Entrepreneurs often get excited about creating a worldwide solution, but our experiences aren't the same around the world.
From Lehigh to Singapore
In another initiative from the Office of Creative Inquiry, three Lehigh students traveled to Singapore University of Technology and Design to work on Mountaintop-style research projects for 12 weeks.
Jacob Dooley '19, a materials science and engineering major, applied to the program because he was excited about the opportunity to add to his research portfolio and to return to Singapore, where he had previously worked as an Iacocca International Intern. At SUTD, he wrote MATLAB code to simulate a bulk acoustic wave (BAW) antenna structure.
Esther Park '20 is in the IDEAS (Integrated Degree in Engineering, Arts and Sciences) program, majoring in bioengineering and product design. "I applied for this program because the US-Singapore exchange provides a fully funded summer research focused on a design thinking approach to developing medical devices," she says. "I worked on the project, 'Design and Development of Image-Guided Biopsy Needle Stabilizing Device.' By incorporating the engineering design thinking approach, I completed the 11-week program with three working prototypes, a 30-page research paper and a research poster."
In addition to working in the lab, Park traveled throughout Southeast Asia. "One particular memory was when the North Korea - United States Summit occurred in Singapore and I had the opportunity to learn and understand different perspectives on the issue," she adds.
Sarah Siddiqui '19, a materials science and engineering major, spent her time at SUTD 3D printing a biomaterial to make scaffolds that will guide tissue regeneration in dental applications. As part of her program, she also spent a lot of time interacting with other students at the university.
"This experience, along with my other abroad experiences, helped open my eyes to the daily life other people are living, just like me," she says.
"As much as we try to be innovative, there will always be a sort of status quo where you've grown and established yourself. Everywhere you go will always have something at least a little different from what you're used to, and if you're lucky, it might be a little more than a little different. … A different laboratory experience, a different lifestyle, and even a different appetite helps a person grow."