In spring 2020, Herman Nied was awarded the Fulbright Scholarship to pursue a teaching and research position at Graz University of Technology in Styria, Austria.
Nied, a professor of engineering, is the 15th Lehigh faculty member in a row to win the award after participating in the Office of Fellowship Advising application assistance program.
The Fulbright Scholarship is a program that enables American professors and students to study and conduct research abroad. At Lehigh, the Office of Fellowship Advising, led by Bill Hunter, helps members of the Lehigh community to receive competitive fellowships and scholarships.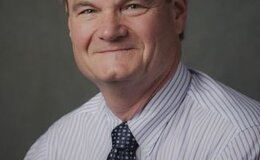 Nied was a mechanical engineering graduate student at Lehigh and received his Ph.D. in mechanics and mechanical engineering from Lehigh in 1981.
After working for General Electric's research and corporate developing center in Schenectady, New York, Nied returned to Lehigh in 1995 as a professor and hasn't left since. In his tenure at Lehigh, Nied served as the chair of the mechanical engineering department for six years.
"I work on all kinds of problems in mechanics, computational mechanics, polymers, polymer processing, electronic packaging," says Nied. He focuses on using the basic tools of mechanics to tackle major problems in engineering.
In 2013, Nied took an eight-month sabbatical in Fryborg, Germany, to participate in government industry-sponsored research at the Fraunhofer Institute. He is now looking forward to another international academic experience in Austria.
Nied's Fulbright scholarship is a teaching assignment focused on solid mechanics and fracture mechanics. He will be teaching one graduate course and one undergraduate course. Both courses will be taught in English.
As for his research, Nied will be focusing on welding research, particularly friction welding. He also hopes to volunteer for the Formula 1 SAE team at the university.
"You have to look for a match where you think your skills are going to match up with the interests of that institution," says Nied. The Graz University of Technology piqued Nied's interest due to his work in mechanics and welding.
Nied approached Hunter and the Office of Fellowship Advising for assistance in applying for his Fulbright. Austria is extremely competitive for visiting professor positions, but the Office of Fellowship Advising was able to help Nied achieve his goal and keep the streak of Lehigh professors winning the scholarship alive.
"The benefit that the international office can provide is just giving you a certain amount of guidance as to what kinds of things you really need to put together for a strong proposal," Nied says. He praised the help he received from Hunter, who reviewed his application and proposal and helped put the necessary materials together.
However, as the COVID-19 pandemic rages on, Nied fears his Fulbright Scholarship might be in jeopardy.
"The big problem right now is that Americans are not allowed into the E.U. Also, I cannot get a visa right now," he says.
Nied is eager to begin his Fulbright in Austria at the beginning of February next year, but he knows complications may arise.
"The sad thing is that if I cannot take the Fulbright when it's scheduled, I'll lose it. There is no mechanism for postponing it."
Despite the unfortunate potential of Nied missing out on his Fulbright, he remains the 15th Lehigh professor in a row to be awarded the scholarship.