Education was always important to Tinku Khanwalkar's parents. Her mother, Bibha Mukherjee, had a Ph.D. in geography from the University of Iowa, and her father, Kanai Mukherjee, had a Ph.D. in agriculture from the Banaras Hindu University in Varanasi, India.
Both were professors at Banaras Hindu University before they immigrated to the United States, where they continued to work in academia. Khanwalkar herself is an environmental attorney with degrees from Johns Hopkins University and Columbia Law School.
"During their lifetimes, any time my parents could help poor people of Indian origin get an education, they did," she says. Her father even owned an elementary school for poor children in Varanasi.
After they died, Khanwalkar wanted to honor their memory by continuing their support for education with a focus on those with financial need. At first, she thought about donating to her father's school in India, but the future of that school is now uncertain. Khanwalkar, who is married to Volkmar Dierolf, chair of Lehigh University's Department of Physics, discovered a way to create a more permanent memorial.
This will help encourage more students of Indian origin to come to Lehigh. From the point of view of honoring my parents, that's where their hearts were.
She endowed a fund at Lehigh to help high-need graduate students from India with incidental expenses related to their education. It will provide five awards a year of up to $2,000, to help students cover things like airfare to travel to the U.S. to start their program or the deposit on their first apartment when they get here. It's an award designed specifically to help reduce the barriers to learning that poorer students often face. In keeping with her parents' commitment to the sciences, the fund will give priority to Ph.D. candidates in the STEM fields, including the new College of Health.
"The first month or two at university in the U.S. is very difficult for international students," says Khanwalkar. "They come here with limited funds and many immediate expenses. Some qualified people might not come to Lehigh because they're concerned about how to support themselves until they start getting paid for their teaching assistantship or other funding comes through."
Students can also apply for funds to meet unexpected expenses that come up in the course of their program. "The award has flexibility to be used when it's most needed," she explains.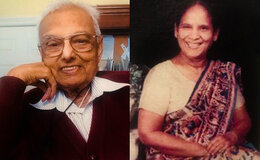 Khanwalker says that Lehigh staff worked closely with her to design something that would honor her parents and help students in a new way. It's a product of discussions she had with Adrienne Nenow, director of international development; Elizabeth Dolan, deputy provost for graduate education; and Kathleen Hutnik, associate dean for graduate life.
"I wanted to do something meaningful for me, and Lehigh University really came through," Khanwalkar says. "This will help encourage more students of Indian origin to come to Lehigh. From the point of view of honoring my parents, that's where their hearts were. My dad came from a poor family and he struggled to make his own way until he married my mother, who was already a professor at the university."
Khanwalkar is particularly interested in helping students from India because of her parents' story, but she hopes her gift inspires others to give and grow support for students in need from all over the world.
"My hope is that this might bring in more people who want to help in a similar way and add funds so it can be an increasingly significant thing. We can help people get through that difficult first phase or that fear of a random, unexpected expense."