Munya Chiura '97 stepped on campus for the first time in 22 years. His purpose was to meet with both current students and staff in the international office. Chiura provided career advice and shared lessons on how to make the most out of opportunities as an international student.
He was once in their place. Chiura reflected on his own experience as an international student from Zimbabwe.
Chiura's young professional journey
Chiura watched his older brother go to the United States to study at American University in Washington, D.C. Chiura set his sights on education in America. He would later visit and fall in love with Lehigh.
Chiura shared his own struggles as an international student. He said he found it difficult to find employment. Going door-to-door with his resume, his attempts did not work. This led him to return home to Africa after graduation.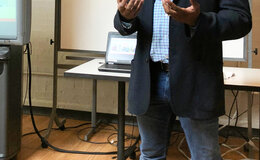 He found his first job in South Africa. While he was working here, a man named Bob Quaife from Louisville, Kentucky, visited Zimbabwe and stayed at the same Rotary Club that Chiura's father attended. Quaife is the CEO of the Quaife Financial Group which is an agent of New York Life Insurance.
One of Quaife's clients, Tony Holcombe, who had recently been appointed as president and CEO of Comdata Corporation, was looking for interns to work in Nashville. Quaife immediately connected Chiura and Holcombe.
"Bob took a chance on me and Tony invested in me," he said. Chiura needed to be sponsored. When he nervously told Quaife this, Quaife responded reassuringly, telling Chiura not to worry about it.
Chiura would spend eight years in Nashville. He renewed his sponsorship once again before obtaining a green card for permanent residency.
Chiura said the stakes are high for international students as they seek job opportunities and sponsorship in the U.S.
Yet he reminded the international students that they have a great education, and to hold themselves to a high standard.
If you don't keep pushing yourself, you can get comfortable. It's okay to pivot.
While working in the U.S., Chiura said he had an epiphany. He realized the incredible growth of mobile telephone and money not only in his own country but in Africa.
"We're living in an environment that is changing dynamically," Chiura said.
He asked himself what his next 10 to 20 years would look like. It was 2011. Chiura decided to move back to Africa. Identifying himself as an "eternal optimist," he said he was and still is extremely optimistic about the future of Zimbabwe.
Chiura emphasizes the importance of continuous growth personally and professionally
"If you don't keep pushing yourself, you can get comfortable," Chiura advised Lehigh's international students. "It's okay to pivot."
He said that now more than ever, being adaptable to change is key.
"It's either that you as an individual are ready for a new opportunity or it could be vice versa where the company says, 'Look were changing directions, we may not need your skills and we're going to move on,'" he said. "It becomes an understanding that this environment that we're in changes very, very dramatically, and you just need to be ready for that."
He said international students are equipped to handle the changing world. He told them to use the curiosity that brought them abroad to continue taking advantage of opportunities.
He said international students will face more challenges. Yet international students "have lots to bring to the table," he said.
He advised counteracting challenges by continuing to network and using opportunities.
Networking: Chiura's main advice to students, and what he wished he had done more
Thinking back, Chiura pinpointed an aspect of his undergraduate time at Lehigh he wish he had done differently: networking. He wishes that he had networked more as he believes Lehigh's alumni network connection is such an important driver for opportunities.
"My fortune changed when I was able to network," he said. "Keep networking and have conversations, because you never know what might happen."
During his junior year at Lehigh, Munya did not want to go home over winter break. He decided to take advantage of his free time. He applied for an extension program with Lehigh, which led him to the World Bank in Washington, D.C., working with Lehigh alumnus Ira Lieberman '64, who was a senior manager.
"It opened my mind and my world," he said about the transformative experience.
Now, Chiura is an innovation consultant for the World Bank in Zimbabwe.
Flywire: Chiura's Next Chapter
After Chiura moved back to Zimbabwe, he was working in consulting. He also met his wife.
In 2017, a new opportunity arose. He learned of Flywire, a global payment platform. Once again, Chiura took a chance; he cold emailed Flywire's CEO. Chiura had a personal experience that drew him to this company. In the email, he explained to the CEO his disastrous payment experience when living in the U.S. The day after Chiura arrived at Lehigh, there was a snow storm. He did not know where to go and had to figure out how he could make payments. He said he would love to offer his help at Flywire.
That year, Chiura began working at Flywire. He now is the head of the Middle East and Africa payments. He helps students and other clients make payments in different countries. With Flywire, international students are able to make payments in their domestic currency.
Chiura's role with Flywire also includes thinking through the dynamic changes within international student recruitment globally.
He said there has been a decline of Chinese students coming to the U.S. to study. This, he said, is leading universities to consider expanding recruiting and diversifying their international student population.
In his personal capacity, he is passionate about international education, and said he can always be a resource for helping think through international recruitment.
Stay or Return Home? Final Thoughts and Advice to Lehigh's International Students
Chiura said returning to Lehigh's campus has been surreal in both reliving old memories and seeing how Lehigh has grown. For him, it feels like coming full circle.
"It couldn't be more special coming back both as a former international student talking to international students but also with Flywire," Munya said, as Flywire helps Lehigh with international payments.
He helps students work through conflicting feelings of wanting to stay in the U.S. or return to their home country.
"One can't minimize the cultural and emotional experience people go through when they are coming to a new country like the U.S.," Chiura said. "You may adapt, but at one point in time you may get homesick and you're ready to get home, but there's also practical implications around that.
"My advice is to really think through that and make sure you're making informed decisions, and they shouldn't be emotional decisions."
Chiura mainly wanted to instill that life is too short not to follow your passion.
"Don't waste 20 years of your life doing something you're not interested in," Chiura advised.
Chiura said he had a great education, then had the opportunity to give back to his home country. Calling himself a "global citizen," he said he identifies with the U.S. just as much as he does with Zimbabwe.
Yet he advised students not to forget their roots.
"You have to have something that draws you back home," he said. "Our background, culture, experiences make us who we are."