Over 1,800 students worldwide are currently taking part in a Lehigh-facilitated Massive Open Online Course (MOOC) on Green Entrepreneurship.
This course is a result of a partnership between Lehigh University, the United Nations Development Programme (UNDP), Convention on Biological Diversity, EcoEnterprises Fund, FaithInvest, Fordham University's Gabelli School of Business, Regional Activity Centre for Sustainable Consumption and Production, SEED, and The GEF Small Grants Programme. Between November 2 and December 11, 2020, this course will equip participants around the world—amateurs and experts alike—with the skills to develop their own sustainable green businesses.
In the decades of working with local and indigenous communities around the world, UNDP's Global Programme on Nature for Development has observed many incredible eco-friendly businesses launched by its entrepreneurial constituencies. In an effort to spread the word about these initiatives among a large global audience and support other local community representatives in jumpstarting their green businesses, UNDP's e-learning programme Learning for Nature, managed by UNDP's Global Programme on Nature for Development, decided to offer a free and open online course coordinated by Lehigh alumna Viktoriia Brezheniuk '15G, who is now an e-learning and capacity building analyst with Learning for Nature.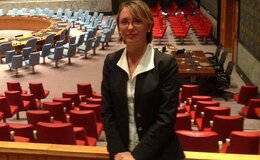 The foundation of the course was formed by the training methodology developed by the Regional Activity Centre for Sustainable Consumption and Production (SCP/RAC) of the UNEP/Mediterranean Action Plan, within the framework of the EU-funded SwitchMed project, the Handbook for Green Entrepreneurs "Create your Green Business." To complement the framework by expert guidance that would allow participants to dive deeper into the process of developing a green business idea, Viktoriia turned for support to her alma mater in Bethlehem, PA.
"The first thing that you always do when you put together a big online learning initiative… is to put together a team of experts," Brezheniuk said. "When I think of experts, I always think of Lehigh."
An email to Lehigh's Todd Watkins, Executive Director of Martindale Center for the Study of Private Enterprise, connected Brezheniuk with Khanjan Mehta, Vice Provost of Creative Inquiry and Director of the Mountaintop Initiative at Lehigh. Mehta had worked with sustainable entrepreneurship before. However, he had never designed a MOOC. To trifurcate the workload of course design, Bill Whitney, Administrative Director of Creative Inquiry, also joined them.
The wider framework of the course had begun to form. In the coming weeks, the team stocked the course syllabus with 30 guest lectures featuring speakers from 10 organizations, including the UN High Commission for Refugees, the Rockefeller Foundation and the Boticario Foundation—one of Brazil's strongest nature preservation organizations.
Brezheniuk said Mehta's social network was highly instrumental in the expansion of the course.
"Our course grew from a rather humble initial idea to something much bigger thanks to Khanjan's support," she said.
Mehta's connections added new valuable partners to the course, who joined the group of experts from UNDP, EcoEnterprises Fund, and SEED.
Mehta said that the team's growing familiarity with online classrooms—brought about by the pandemic—improved course design. He also said that Lehigh's campus-wide emphasis on practical implementation made Lehigh a perfect leading partner for the design of such a course.
The MOOC's final component came in selecting 24 Lehigh students from across all four undergraduate colleges to serve as course facilitators. The students took on the important task of guiding course participants through their green entrepreneurship journey.
The six-week Green Entrepreneurship bootcamp had received its finishing touches. Signups went live earlier this fall. Registrants trickled in first by the tens, and soon the hundreds. Brezheniuk's inbox flooded with registration emails, pre-course survey results, and bios from student facilitators.
The stage had been set. The course room is now filling up with discussion posts and email exchanges from participants from all over the world working on their environmentally-friendly businesses.
Mehta knows that six weeks offers a small window on a vast topic. But he is hopeful that Lehigh and UNDP's partnership on this course can bring about impactful change.
"Whether [our students] become entrepreneurs or not. I'd like to think that they are more likely to become engaged citizens once they have an appreciation for the importance of [sustainability]," he said.
Going forth, Brezheniuk would like to see the MOOC become more inclusive. While only offered in English this year, she said the course will be offered in Spanish and French next year.
The MOOC will conclude on December 11, 2020. In 2021, UNDP's Global Programme on Nature for Development looks forward to opportunities to engage Lehigh students in UNDP's work on promoting nature-based solutions for sustainable development.
View the MOOC's sign-up page for contact information, course syllabus, lecturer bios, and more.