Thanks to a new agreement with a network of schools in Peru, Lehigh University's College of Education has the opportunity to be part of a fast-growing experiment that has the potential to transform education in developing countries.
The Innova Schools are a venture from Intercorp, a conglomerate of companies with business in Peru's financial services, retail and education sectors. Starting with its foundations in banking and expanding into supermarkets, department stores and pharmacies, Intercorp has long sought to improve quality of life in Peru and support the country's emerging middle class.
While the country has been one of the fastest-growing economies in South America over the last two decades, Peru's education system lags behind, ranking near the bottom of international measures of academic performance. Public education is underfunded and teachers often do not have sufficient training or support. Private schools are unregulated so quality can vary greatly, and the tuition is unaffordable for many families.
Recognizing that access to high-quality education is key to the country's continued progress, Intercorp CEO Carlos Rodriguez-Pastor launched Innova Schools in 2010 with a bold vision: provide international-quality education at a low cost, and grow quickly. The Innova team worked with IDEO, a global design and consulting firm, to develop a new, scalable model of education that uses blended learning. Students learn partly in small groups led by teachers and partly independently with self-directed digital learning tools. Teachers have access to more than 20,000 lesson plans, and many decisions are made in a central office.
The model worked: By 2015, Innova established 29 schools and Intercorp was named one of Fortune's 50 Change the World businesses for its efforts to improve Peru's education system. The magazine noted that "71% of Innova second-graders tested proficient in math (compared with 26% nationally), and 85% met thresholds in literacy (compared with 44%)." Today, the Innova network has 49 schools serving more than 37,000 students, and it wants to double that number over the next five years.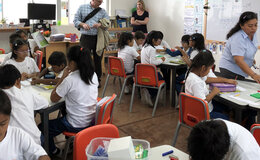 As the company continues to grow, one challenge is ensuring that it can continue to provide the same high quality of education across more schools. In addition to expanding professional development programs, Innova is launching an undergraduate teaching college to build a pipeline of qualified educators and school leaders. That's where Lehigh comes in.
"This is a unique chance for us to be part of an innovative experiment that's potentially transformative for education in developing countries," says Cheryl Matherly, Lehigh's vice president and vice provost for international affairs. "This partnership provides opportunities for faculty and staff to think about education and school leadership from a different perspective and show how a Lehigh education makes a difference in the world."
Faculty in the College of Education are consulting on the teacher training curriculum, bringing their emphasis on evidence-based practice and experience in preparing excellent teachers and school leaders to a new context. Brook Sawyer, associate professor in the teaching, learning, and technology program at Lehigh, is working closely with Andrea Portugal, Innova's director of teacher training, to design the new school's course of study and get it approved by Peru's Ministry of Education. Susan Woodhouse, associate professor of counseling psychology, is developing courses in teacher professional and personal identity. And Craig Hochbein, assistant professor of educational leadership, is exploring research opportunities related to school and system improvements.
"The way that Innova operates provides some unique opportunities to examine the contribution of school leadership to the effectiveness of schools," Hochbein says. "In particular, our discussions with Innova revealed that they implement a robust teacher evaluation system. Depending on the availability of data, their system provides a unique opportunity to study the process of teacher evaluation by school leaders."
The COE faculty are also exploring ways that the partnership can open up international experiences for graduate students at Lehigh. COE students may visit Innova Schools in Peru and Innova teachers and staff may visit Lehigh. Students could co-teach a class or engage in research projects with each other.
Sawyer says that visiting Peru would benefit COE students and help them become better teachers. The value of being in an environment where you don't speak the language could help them develop empathy that would help in teaching English language learners. Furthermore, scholarly engagement with Peru and an education system as different as Innova Schools opens up discussions about the role of education in societies.
"My work focuses on literacy and education as social justice—we need to give all students access," says Sawyer. "In Peru, building a high-quality education system is part of building the infrastructure of their country. Innova Schools is potentially changing the landscape of education in Peru. That's not something our students can see here. We have low-income schools in the U.S., but it's even more widespread in Peru. Seeing similarities and differences in educational systems would give students a different lens to see the social justice issues that we have here."