Lehigh University and the Council on International Educational Exchange (CIEE) teamed up to create an event that offered free passports to students as part of the Generation Study Abroad initiative.
The CIEE Passport Caravan took place on September 26 in the Roemmele Global Commons in Williams Hall. This was an opportunity for students without passports to get them for free, ultimately saving them $145.
The goal of this event was to break down some of the barriers holding students back from studying abroad, including cost, curriculum and culture. Launched in 2014, the Generation Study Abroad initiative strives to double and diversify the number of U.S. students studying abroad by the end of the decade, with a focus on first-generation and STEM students, minority students and those with high financial need. Lehigh is a Generation Study Abroad partner.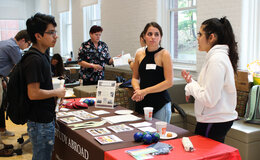 CIEE registration coordinator Jacqueline Brogdon was excited to be a part of this collaboration between Lehigh and CIEE.
"We want to help students find a way to fit study abroad into their curriculum, no matter what their major is," Brogdon explained.
Many students think that they can't go abroad or that it won't work for their plan or career path, but CIEE wants to change that.
Brogdon further explained that students have no commitment to CIEE or Lehigh when receiving a passport. CIEE wants to expose students to different options, and give them the potential to travel the world.
"The Study Abroad Office is committed to working with all students to meet their academic, personal and career goals," said Katy Rene, assistant director of study abroad. "Applying to be a stop on the Passport Caravan was a great way to boost the efforts already being made on campus to connect students with impactful learning experiences abroad."
As new passport holders, some students who may never have considered that they could go abroad now have one less barrier to confront. Once students successfully completed their application for a brand new passport, they were encouraged to put a dot on the map where they hope to travel.
Kiella Jackson '23 was extremely grateful for this opportunity. She explained that the process was easy and just required a meeting in advance to go over what to bring to the event. She is excited to now have the option of spending a semester abroad, which she definitely wants to explore.
CIEE has been running passport caravans across the country for four years now, with the goal of giving was 10,000 passports. Allison Moroney, CIEE's manager of institutional relations, explained that CIEE will be funding the full cost of passports for 100 Lehigh students. These students, similar to Jackson, now not only have a passport but are opened up to the once in a lifetime opportunity of studying overseas.