My name is Jessica Condolo Hubsch, and I am a Fulbright English Teaching Assistant (ETA) at Instituto Superior de Gestão (ISG-Business and Economics School) in Lisbon, Portugal.
I graduated from Lehigh University in December 2018 with an M.Ed. in Globalization and Educational Change. While I had never done anything like this before, applying to be an ETA in Portugal was a very logical step for me, as the program's focus on study abroad and higher education was a perfect fit for my professional goals in the field of international education.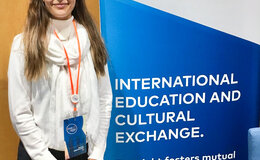 There is never a dull moment as an ETA in Lisbon. I wear many different hats in this role, but my central activities focus on research, international student programming, and collaboration with the Portuguese Fulbright Commission on various projects. Living in Portugal has been an incredible experience—both challenging and immensely rewarding. They say that you only really start living life once you leave your comfort zone, and my time here completely affirms that. I have been afforded so many personal and professional opportunities in my time here, whether it be navigating the public transportation system, grocery shopping at the local Continente, or taking part in the Lisbon Study Abroad Fair. My adventures here have only just begun, and I can't wait to see what the next eight months have in store for me!