During summer 2018, 89 Lehigh students traveled to 29 countries to live and work abroad through the Iacocca International Internship Program.
Prioritizing individuals with high financial need or who have never been abroad before, the program aims to make international experiences accessible to all students. Each internship is mostly funded, covering the cost of travel, accommodations and meals.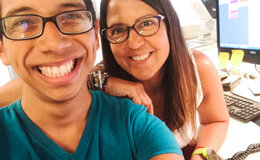 Croldy Veliz '19 worked as a receptionist at the Turo Park Medical Center in Barcelona, Spain. In his role at the medical center, Veliz checked patients in and managed patient records in the center's database. He also assisted with the sterilization of medical equipment.
Veliz is a biology and health, medicine and society double major in the College of Arts and Sciences. While he didn't get a lot of medical experience in his internship, Veliz learned a lot about the business side of running a clinic. He wants to open his own clinic one day.
In Spain, Veliz said "they're on my schedule." The culture is a lot more relaxed than it is in the United States, everything is on a delay, and punctuality isn't as important. Spanish culture is all about relationships. He lost his phone early in the program, so he didn't have one for six weeks while abroad, but Veliz said this allowed him to fully immerse himself in the culture and the experience.
As an athlete, Veliz said a semester study abroad program wasn't really feasible for him, but the Iacocca International Internship Program fit well with his schedule. Veliz said, "Being able to see the world helps you grow in so many ways, and the Iacocca Internship being fully funded helps you do that."
Jean-Pierre Villamar '19 interned for the American Council for International Education, where he was placed at the American Corner in Montenegro as a teaching and programming intern. He was the first Iacocca intern to travel to Montenegro as the program expands to new regions each year.
American Corners, created by the U.S. State Department, exist around the world to bring American culture and the host country's culture together. Villamar helped Montenegrin students prepare for the SAT test in order to study in the United States and with their applications to the U.S. He also ran workshops on American Culture and got to create some of his own workshops, too.
Villamar is an international relations major in the College of Arts and Sciences. While he has never taught professionally before, Villamar said that the experience only reinforced that his Lehigh education has prepared him to enter the workforce, and his international relations classes helped him to be unbiased in his experience.
Villamar's host parents spoke only limited English, and they communicated through gestures mostly. He made an effort to learn basic phrases in Montenegrin and used his phone often to translate. At American Corner, Villamar helped people with their English, and they reciprocated by helping him learn their language. He played basketball with local kids and built relationships with them, despite the language barrier.
"If I hadn't tried, the experience wouldn't have been as good," Villamar said. "What you make of it depends on your mentality."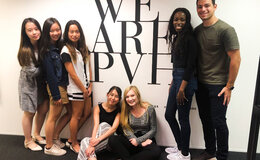 Michael Stragapede '20 spent his summer in Hong Kong, China, working as a merchandising intern at Calvin Klein. His work involved competitor analysis and pricing strategies, and he got to attend meetings with buyers and distributors. Stragapede also developed customer and store profiles for the Asia Pacific region. The Iacocca International Internship Program at Calvin Klein in Hong Kong is sponsored by Lehigh alumna Liz Edmiston, the Chief Brand Officer at Calvin Klein Asia Pacific.
Stragapede is a finance major in the College of Business and Economics, and he wants to be a consultant. He said while consulting is more direct to consumer, working "behind the scenes" has helped him understand the business process and made him more well-rounded.
Unlike Villamar's experience in Montenegro, English was widely spoken in Stragapede's office—there was virtually no language barrier, and the culture in Hong Kong has a lot of Western influence. While the office had New York City-esque feel to it (with the added scenery of mountains and palm trees), Stragapede lived outside of the tourist area during his stay, which was quieter and had less English influence to make for a more "authentic experience," he said.
This internship was Stragapede's first time going abroad, and he said he wouldn't have been able to afford the experience without the assistance of the Iacocca International Internship Program.