More than 100 Lehigh students recently participated in a master class by the senior most United Nations International Labour Organization diplomat. Kevin Cassidy, Director and Representative to the Bretton Woods and Multilateral Organizations for the International Labour Organization (ILO) Office for the United States, visited Lehigh for two days and discussed topics such as energy transition, social justice, human rights, diplomacy, and negotiation with the students.
In his first of three events, he directly engaged with students from a wide range of majors on the "Just Transition from Fossil Fuels to the Green Economy." Cassidy, who has nearly four decades of experience in the UN, spoke passionately about the need for equitable policy making as sustainability becomes a global concern. Lehigh's collaboration with Cassidy spans more than a decade, with this being the sixth time he has visited campus.
That evening, Cassidy joined a group of select students for dinner in Coxe Hall for a "Diplomacy and Negotiation Skills" workshop. The students, many of whom hope to intern at the UN, listened intently as Cassidy shared snippets of his vast experience in multiple UN roles, the first being as an unpaid intern while working three extra jobs.
"Take what you have learned and put it into play at the UN," said Cassidy, addressing a table of global-minded students. He continued, "Somebody sitting in this room could be sitting in the World Bank or on Capitol Hill ten years from now."
The next day, Cassidy gave a third presentation, titled "Health as a Human Right" to students, faculty in the College of Health. The talk focused on the critical need for fair and proactive health care systems that enable workers to be as productive as possible, yet have a safety net as needed.
"Mr. Cassidy is extremely knowledgeable about all aspects that would impact one's ability to work, including the commonly overlooked social determinants of health" according to Jessica Berman, health-focused UN Youth Representative for Lehigh University. "This presentation was especially interesting from a post-COVID-19 pandemic perspective, as health is more at the forefront of people's minds and we all saw firsthand how the pandemic impacted the workforce."
Among all who engaged with Cassidy, his passion about his work and empowering the next generation of leaders was abundantly clear.
"Talking to younger people gives them the prospect of possibility," he said when asked about why he enjoys speaking with students. "It helps me too..[students] give me new frames of thought, ways of thinking that are new to me," he continued. Discussions are already underway with Cassidy regarding more collaborative initiatives beginning in the fall semester.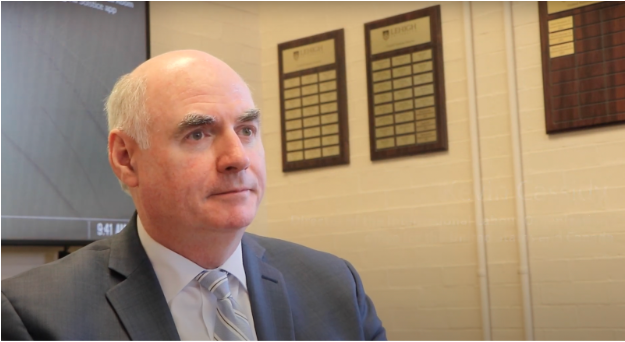 PHOTO: JORDYN PYKON