William Vu '19 left his home in Hanoi, Vietnam to pursue his undergraduate studies at Lehigh. Now he is working on a master's degree at Oxford University.
Vu's journey to Lehigh was not one he expected, and it was one he will never forget. A semester after his graduation from Lehigh, he recalls the story.
"I applied to a lot of universities in the U.S., yet I only got a handful of acceptances," he said. "Initially I even got rejected by Lehigh, too."
By April of his senior year of high school, Vu was set to attend Boston College the next fall. This is, until he was contacted by Morgan Volkart, associate vice provost and director of international recruitment. Volkart told Vu he had been awarded the Karen and Paul S. Levy '69 International Scholarship, which Vu said covers "everything for the next four years."
"I was literally speechless for five minutes, just blankly staring at my laptop monitor before I could call my parents about it," Vu said. "It was definitely one of the best moments that I have ever experienced, and that memory alone still overwhelms me with awe and delight."
The Levy Scholarship is not one students apply to, according to Stacy Burger, director of global partnerships and strategic initiatives in the Office of International Affairs. After prospective international students apply to Lehigh, the international admissions team assesses applications and can recommend students for the scholarship.
All the people I've met here – friends, acquaintances, professors – played a huge part in making me who I am today.
Established by alumnus Paul S. Levy '69 and his wife Karen, the Levy Scholarship aims to bring exceptional students to Lehigh. In addition to tuition, room and board, the full scholarship provides the opportunity for undergraduate research, international summer internships and a round-trip flight to the student's home country.
"Paul Levy believes strongly in international influence," Burger said. "He wanted to provide an opportunity for very well-respected and hard-working international students to come to Lehigh."
Vu had known he wanted to study abroad. He said that although he has a lot of personal ties in the United Kingdom, he preferred the American education system. With the British education system, he said, you need to declare your major right away.
"The U.S. system is a lot more flexible – you can take all the classes you want to in the first year and then decide what you want to study," Vu said.
Hearing about Lehigh from upperclassmen in his high school who came to study here, he began researching.
"I realized that Lehigh is in a great place; it is quite close to both New York City and Philadelphia, which is great when you have job interviews in the city, but not too close to cause any distractions," Vu said.
Lehigh's campus also drew him in. He wanted a campus that was safe and easy to navigate. He also liked how the city of Bethlehem is right off campus to explore.
"I suppose that this balance appealed to me," Vu said.
Vu navigates Lehigh's Undergraduate Student Life
Vu began his Lehigh career in the College of Arts and Sciences, and thought about majoring in math. Enjoying his introductory economics class with Frank Gunter, professor of economics, his first semester, he signed up for another economics class. By the end of his first year, he transferred into the College of Business. His first finance class also sparked his interest. Ultimately, he chose the financial economics track.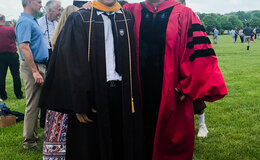 "I like the applicability of it. It gives me a better understanding of what's going on in the world," Vu said. "I'm really good at it and I enjoy it – it's a healthy challenge."

Although he came into Lehigh not knowing anyone else, Vu said he fit in easily and made friends quickly.
Vu discussed how there can be difficulties when coming to live in a new country and attend a school you do not know. Vu decided to help the Lehigh Diplomats club greet incoming students, which he said is a great thing for international students to do. Establishing connections quickly helped him assimilate into Lehigh's community, and he wanted to help other students do that as well.

Burger works with students who are on privately funded international scholarships. Throughout their four years, she serves as their "non-academic advisor."
"Often times these students are so self-sufficient, I'm really just there if they need to bounce ideas off of," she said.
Students can go to her for anything from switching majors, applying to jobs, thinking about graduate school to roommate issues. She is also a resource for the students' parents. Burger said Vu came into the university extremely shy and reserved. "Yet over the four years he was here, Vu really came into his own," she said.
Remarking on his intelligence, Burger also described him as extremely thoughtful, hilarious, easy-going.
Vu had been to the United States before, but said coming to study is very different because of the length of time and new responsibilities.

"I needed to cook for myself, do laundry, take full responsibility for life and maintain good grades," Vu said. "It makes you tougher and stronger when you have to deal with all that."

Playing pick-up soccer on Goodman campus and playing piano in Zoellner's practice rooms were two of Vu's favorite pastimes at Lehigh, as well as playing chess with Lehigh's Chess Club at Saxby's and Bonn Place Brewery.

Vu said he was lucky to be able to work as a research assistant with Gunter and learn the process of researching and developing ideas. He continues to keep in touch with his professors after graduation.
"It helps to have someone like that in your network because they're more experienced and knowledgeable," Vu said. "They give good advice. All the people I've met here – friends, acquaintances, professors – played a huge part in making me who I am today."
Burger also spoke to the lasting relationships and connections Vu made with faculty and professors, who she said speak very highly of him.
Vu also said his college experience was enriched by studying abroad at the University College of London in the spring semester of his junior year.
"If students can afford it without hindering their progress, it's worth it to study abroad," Vu advised.
Vu also had the opportunity to return home his sophomore year summer and intern with PwC in Vietnam. There, he said, he realized that professionally, having experience in America is impressive.
"I've observed that companies care about what you've done in the States," Vu said.
Vu says goodbye to Bethlehem and the U.S. to Pursue Further Education
Vu is all about continuous growth academically and professionally and having enriching learning experiences. He said he might be ready to go into the workforce, but wants to learn more and go deeper before he "goes into the field."

And he's doing just that. Vu is continuing his education by pursuing a graduate degree at Oxford University in the United Kingdom.
"Oxford was my dream school," Vu said. "It's very lucky to get into your dream school."
Vu took finance and math classes this past summer as pre-course preparation before beginning regular masters classes in the fall term. He also applied and was accepted into Oxford Saïd Finance Lab, a program for Oxford master's students interested in finance.
"We learn, improve and apply our financial modelling and valuation skills via doing case studies with companies such as UBS, Morgan Stanley and BAML," Vu said. "The best thing is that there is always someone from these companies to present the case to us."
Vu has also begun applying to jobs. He said although this time at Oxford is pretty intense, he is happy as he has made many friends and enjoys the campus and city.
He plans on getting his master's degree in financial economics, working for some time, then possibly working towards a Ph.D. He hopes to go into investment banking or corporate finance.
Vu shared he very much misses Lehigh since graduating. He felt Lehigh helped not only his academic growth, yet personal growth as well.
"Lehigh has truly provided me with a great opportunity to learn and grow, and I am forever grateful for my wonderful four years there," he said.
"When I got to Lehigh, I had no idea what I wanted to do," Vu shared. "I never would have expected I'd do finance. You need to take time to discover things and explore your strengths and weaknesses and what you're suited for."
Vu said during his time here, he got to make his own decisions.
"It's like you're standing in a huge room, surrounded by doors, and all of them are open. You can go through any of them, and you get to decide," Vu said.
Vu said the Levy Scholarship is "inarguably the most impactful thing that had happened to me in the last few years." He said without it he would never have formed the ever-lasting and extremely impactful relationships he did at Lehigh.
"It is not an overstatement to say that the scholarship let me open a whole new chapter in my life, from Hanoi to Lehigh," he said.
"It is not just my life that has been impacted by the scholarship; all of us Levy scholars are extremely grateful that we were granted this magnificent opportunity."
He said he was fortunate that all of the Levy scholars and he had the chance to meet Mr. and Mrs. Levy on several occasions and personally thank them.
To Vu, being granted the scholarship was a way of saying "we believe in you, and let's make something good happen."
In addition to being able to choose his major freely, Vu said he feels "the Levys trusted us to make our own career choices, because they have faith that we will make the right decisions and get the best out of this opportunity."
"I truly hope that us Levy scholars could make them proud!" He said, "In the long term, I just hope that I could give back to Lehigh and grant the opportunity that I was lucky to receive to future students."