Nadine Clopton '19 was on her way back to the United States after a whirlwind of a semester abroad in Switzerland. What should have been a relaxing flight home though, quickly turned into a networking event when she learned that the person sitting next to her is a board member for a large Nongovernmental Organization (NGO) based in Geneva.
This story is characteristic of Clopton who, while studying abroad in Geneva, took full advantage of the connections she had made as a youth representative for Caring & Living as Neighbours (CLAN), an Australian NGO focused on providing equitable access to essential medicines and healthcare for children living with noncommunicable diseases in many low- and middle-income countries.
Through her assistance with the application process and continued persistence to hound those in charge of the decision, Clopton helped CLAN achieve the honor of being awarded consultative status with the Economic and Social Council (ECOSOC) in April of this year.
Being awarded ECOSOC status meant that Clopton was finally able to obtain a UN grounds pass for the UN office in Geneva (UNOG), the first UN youth representative to do so. This allowed her the opportunity to access the Palais des Nations as well as the World Health Assembly (WHA) at the UNOG in May, an experience Clopton said she is not likely to forget anytime soon.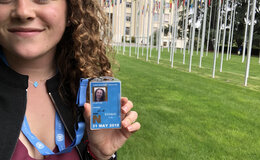 "The most powerful thing I got out of WHA was really being able to connect with the other youth that were around and getting to collaborate specifically with the youth also working within the non-communicable diseases sphere," she said. "It was really wonderful just getting to build this network of hyper involved youth in the public health world."
Even though it was late in her time in Geneva that she was finally able to obtain her UNOG badge, Clopton said that didn't stop her from working on behalf of her NGO throughout her time abroad. She said that she was already meeting with people from the WHO and other international organizations, making connections and having conversations about the work that CLAN is doing, the most important aspect of her job.
"It was just really incredible to be able to meet with people who I've worked with remotely for years and really get the feel for what public health is at an international level," she said.
Clopton said that she is humbled and honored to be the first youth representative to serve outside of the U.S., but that she is more excited about the visibility that it can bring to CLAN in order to amplify the incredible work that they have been doing for years.
Clopton said that she will continue to represent CLAN when she returns to campus this fall for her senior year and that she's excited to carry this momentum forward to her third high-level meeting on non-communicable diseases at the UN General Assembly this fall.