In August, Urinrin Otite arrived at Lehigh University to begin her isolation period before embarking on her Ph.D. journey in one of the university's top programs – civil and environmental engineering.
It is no mistake that Urinrin finds herself at Lehigh.
She graduated from the most prestigious university in Nigeria, not only top of her class in her undergraduate civil and environmental engineering major, but as the top student in her entire engineering college. She published her research twice. She was the first in her family to travel outside of Nigeria and is first in her family to come to the United States.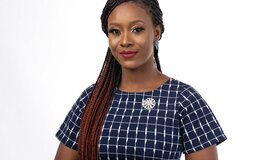 It was no mistake that Urinrin was offered a fellowship at Lehigh to pursue her Ph.D. – in fact, she did it without even getting her master's degree first.
Although every action and intentional choice got Urinrin here today, others questioned her abilities and ambitions for years. Since stepping foot in the engineering classroom years before, Urinrin was told she was making a mistake.
"In Nigeria, civil engineering is a course that is male-dominated and everyone thought that I made a mistake in choosing the course," Urinrin says. "It was a bit demoralizing. It made me feel like I was in the wrong place."
Throughout her journey in the classroom, Urinrin's mother kept her going.
"My mom is my rock – she constantly encouraged me because she was my first mentor. I lost my dad at a very young age, so my mom was all I had," Urinrin says. Her mother was able to train Urinrin and her three siblings to go to school. "She was, and is, our hero, so we learned how to be strong from her."
Urinrin says that at university, her fellow students thought civil engineering was for boys and that girls were weak, and because of that, she had a goal to prove them wrong.
"So I went ahead with the course," she says. "It was a five-year program, and I graduated top of my class and not just my department but for the entire college of engineering. It was a huge win, and I was so happy to have broken that glass ceiling that was placed for females in engineering."
Urinrin found herself admiring the broad ideas of engineering from a young age, but never knew she would end up in the civil and environmental field.
"It took a lot of trial and error for me to realize that civil engineering is what I've always wanted to do," Urinrin says. "I noticed my love for understanding structures and how they stand and support themselves and translate the loads to the ground." Her initial interpretation of this interest was architecture, until she began to learn about the mathematical aspect and moved into the civil engineering profession.
As part of her Ph.D. research with Paolo Bocchini, associate professor of civil and environmental engineering, Urinrin is interested in learning about resilience and making sustainable structures. Her hope is to be able to combine her backgrounds in both environmental and civil engineering to be able to design green structures to better the planet.
Urinrin is excited to make the most of the experience and enjoy herself, but anticipates the looming emotions of imposter syndrome occasionally.
"Sometimes I am in class and I think I made a mistake coming here, I'm probably not good enough," Urinrin says. "But I guess it's something that comes with the new environment. I want to one day wake up, sit in class, and feel like 'yeah I deserve to be here and I'm good enough, I'm smart enough to be here.'"
Although Urinrin traveled to the U.S. solo, she is never alone, for the voice of her mother is always in her, saying empowering words.
"My mom has always said that I dared a lot. And whenever I dare, things fall into place and I'm always victorious, so I remember my past victories, the small ones that people might consider insignificant but to me they are a lot. I remember the small wins and how those small wins brought me here."
In the southern region of Nigeria, Urinrin means 'glory'. "I'm going to get to the places that I'm daring to get to," Urinrin says, and she urges other young, daring girls to do the same.
"Things that seem impossible for them right now at this moment, especially for the young girls in STEM, no matter how impossible it is, just dare. What do you have to lose anyway? You don't have to lose anything.
"You will be surprised by how strong you are, how brilliant you are, because I believe that every young person has something up here you just need to tap into that side of you."