Anubhooti Arora began her role as senior advisor, recruiting strategy and partnerships for India, on July 4, 2022, and will work on behalf of Lehigh in India.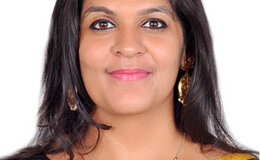 Arora is based in New Delhi, but will be traveling as part of the job. She will work closely with the Office of International Affairs to increase Lehigh's presence in the country.
"This is going to be my first time representing a U.S. university in India and it's a great honor and privilege to do that," Arora said. "I'm really excited about increasing the number of good fit Indian students who study, choose, and eventually enroll at Lehigh."
Arora said that other job responsibilities include advising on Indian engagements, representing and promoting Lehigh among Indian audiences, and fostering academic partnerships between Lehigh and Indian institutions.
Arora previously worked in the U.S. Embassy in New Delhi, India. During this time, she was awarded the U.S. Mission Honor Award in 2018 and 2021 in recognition of her work to reinforce U.S.-India education partnerships.
Cheryl Matherly, Lehigh's vice president and vice provost for international affairs, said Arora's role will provide visibility and brand recognition in the growing Indian higher education market, referencing the 53 percent increase of Indian undergraduate applications. Matherly said, "She brings real diversity into the role. I'm excited about her experience with Coursera. I'm excited about her experience with the U.S. Embassy. She's a visionary."
Arora said Lehigh's focus on experiential learning, community development and entrepreneurship in conjunction with the interest and commitment to India drew her to want to work for the university.
"When you have the university leadership invested in internationalization and specific geographies, you know there is a team supporting you," she said. "You know you have a group of people that is invested in the success of the initiatives that we take together. At the end of day, it's teamwork and leadership that really matter."
Arora will be on campus at Lehigh in August and expects to contribute to Lehigh's vision of internationalization.
"I'm hoping that a year from now we have a strong portfolio of academic partnerships with Indian institutions and that we have Indian students who are excited about studying, have applied to Lehigh, and are motivated to enroll at Lehigh.," Arora said. "I'm really excited about creating that impact, building Lehigh's footprint in India. I can't wait to see where we are in a year from now."