Ramesh Ananthakrishnan had never heard of Lehigh University when he picked up Iacocca: An Autobiography, in which automotive pioneer Lee Iacocca '45 wrote extensively about his undergraduate years there.
Then Ananthakrishnan, who was studying production engineering at what is now National Institute of Technology Tiruchirappalli, India, noticed that one of his core textbooks on computer-aided manufacturing was written by two Lehigh professors, Mikell Groover and Emory Zimmers.
Inspired by Iacocca's experience and Groover and Zimmers' expertise, Ananthakrishnan decided to come to the United States in 1988 to get his master's degree in industrial engineering at Lehigh.
"I came from a rural part of India and I had no inkling of the differences between life in India and life in the U.S.," he says. "But I found Lehigh very friendly, and it was easy for me to find a research assistantship. I got the research assistantship from the Intelligent Systems Lab thanks to Dr. Roger Nagel and Mr. Keith Krenz.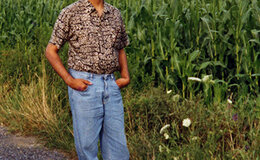 "And with the Iacocca connection, we got guest lectures from big names and intellectuals," he adds. "It was a real eye-opener for me. All these experiences added up."
As part of his program, Ananthakrishnan worked at the Computer-Integrated Manufacturing (CIM) Laboratory, founded by Zimmers and now known as the Enterprise Systems Center. The CIM Lab engaged in research and projects in collaboration with industry.
"Lehigh had a strong interaction with industry," says Ananthakrishnan. "Dr. Zimmers found projects with companies in the Lehigh Valley, Reading, Philadelphia. I got lots of exposure to industry, which wasn't common practice in India."
After graduating in 1990, Ananthakrishnan stayed in the U.S. for two years, working at one of the CIM Lab partner companies (CASI, Inc. which was owned and run by Avinash Kenkare, also a Lehigh alumnus) as part of the Benjamin Franklin Technology program.
But he had bigger plans. "My dream was to start my own business," he says. "I saw an opportunity in IT outsourcing in India, so I returned to India and started my own business. Now I've been running the company for almost three decades."
Today, his company, DSM Soft, provides products and services in the geospatial, telematics, engineering and publishing domains for private and public sector organizations globally and employs more than 600 people.
And Ananthakrishnan has reconnected with Lehigh. As the university expands its presence in India, he has attended events and visited with other alumni and met with Lehigh staff.
"I have a lot of good memories from my time at Lehigh," he says. "When I came to the U.S., I paid my own way for the first semester. Then I had support as a research assistant. Someone funded my scholarship, and that has always been on my mind."
He decided to make a gift to the university to support experiential learning and scholarships for students from India and other countries.
"I got something from the university, so I wanted to give back."