In 2021, the Iacocca International Internship Program (IIIP) celebrated 10 years of providing students with international work experiences. And this summer, the program resumed sending students overseas after two years of virtual opportunities.
Since the first Iacocca Interns departed in summer 2012, 700 students have completed internships in 58 countries, and IIIP has helped establish best practices in experiential learning abroad, including focused learning outcomes and a framework of comprehensive advising before, during and after the internship to prepare students and facilitate reflection.
Iacocca internship opportunities are available for students in any major and focus on real-world experiences in industry, research, government and other organizations. Students live and work overseas for six to 12 weeks in the summer, gaining professional experience while learning how to navigate a different culture. Thanks to the founding gift from Lee Iacocca '45 and support from other donors, the internships are fully funded—there is no cost for students to participate in the program, including travel, accommodation and most meals. This enables access for students who might not otherwise have the opportunity for an international internship.
"It's highly rewarding to see how much students grow through their time in the program, and also to reflect upon how many meaningful experiences we've provided through the years," says Carol Strange, director since 2011.
My Iacocca internship experience provided a sense of clarity and direction that has afforded me a fulfilling and fun professional life.
Robert Mason '15 '17G was part of the first group of Iacocca Interns in 2012. He applied for the program when he was a first-year student. An earth and environment sciences (EES) major, he went to Costa Rica to work as a reforestation surveyor with an organization called Osa Conservation. There he documented the restoration of the region's forests and contributed data to a long-term biological corridor project linking two protected areas. He also gained what he later called "a sense of clarity and direction" for his future.
After the internship, Mason worked as a field research assistant and a lab assistant while he was still an undergraduate. He then went on to get a master's degree in earth and environmental science from Lehigh in addition to his bachelor's degree. Today he is a senior educator with North Bay Adventure, a nonprofit environmental education and character development program for middle school students in Maryland.
"Thanks to that internship opportunity, I've spent the last 10 years cultivating and sharing my passion for the outdoors as a student, a researcher, an educator and an enthusiast at heart," Mason says. "The opportunity changed my life by providing reassurance and resources that enabled me to pursue my passion for the outdoors both academically and professionally."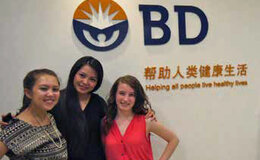 Career readiness and cultural competence
The program focuses on career readiness and cultural competence, Strange says. It's founded on the idea that working abroad is a significant intercultural learning experience that gives students an advantage in the global marketplace. Students refine their career aspirations through career coaching and cultural training before departure, opportunities for reflection and mentorship during the internship and formal re-entry programs, all with the goal of enhancing career readiness and preparing students to succeed in their careers after graduation.
"The internship and advising help students prepare for their careers, and sometimes it helps them see new paths or clarify career decisions," says Strange.
One such student was Arielle Willett '15 '16G, a global studies major who interned with the medical technology company Becton Dickinson (now called BD) in Shanghai, China, in 2013. In her internship, Willett researched the healthcare systems of countries in Asia and put together presentations and a fact book summarizing trends and describing BD's role in each country. It was her first experience in the corporate world, and her first opportunity to see the business-process side of healthcare.
"As a global studies major, I was surprised to see so much culture, creativity and innovation reflected in the work being done," she says. "Following my internship, I knew I wanted to learn more about the health industry, so in my senior year, I began taking graduate classes toward Lehigh's healthcare systems engineering master's program."
Willet completed the M.Eng. in 2016, and started a career as a consultant. Today she works at the National Institutes of Health (NIH), optimizing and innovating systems and processes across the organizations.
A Commitment to Continuing Innovation
In 2019, the Institute for International Education honored IIIP with the Andrew Heiskell Award for Innovation in International Education, recognizing it as a leader in student mobility for giving students a competitive advantage in the job market by providing professional experiential learning in the global marketplace. That year, it was also part of an article in The New York Times about innovative international programs.
In 2020, program staff moved rapidly to shift internships online and develop virtual programming that would facilitate the kind of professional development and cultural learning at the heart of the IIIP experience. Further improvements to the virtual model followed in summer 2021.
Adyn Gallagher '22, who majored in integrated social science and engineering, worked virtually in 2021 as a data and analytics intern with an aquaculture company in Lusaka, Zambia. "This was my first-ever internship, so that alone was very impactful," she says. "Even though it was a virtual experience, I was still able to increase my cultural awareness of Zambia. I also learned that my interests lie outside the data science side of computer science. That's useful information for the future."
Now that students are traveling again, Strange is looking forward to developing new international internship placements that connect with priorities back on campus, such as faculty research or Lehigh's internationalization plan and strategic goals. For example, in 2023, IIIP is collaborating with the Lehigh-United Nations Partnership to place students as interns with an NGO over the summer.