Lehigh University celebrated the first day of International Education Week with a distinguished keynote speaker, the annual Flag Parade, and an exciting kickoff event.
Youren Shi arrived in the United States for the first time in August from her home province of Sichuan in China. Three months later, she carried her nation's flag during a parade throughout the campus of Lehigh University, where she is pursuing her M.S. in Instructional Technology.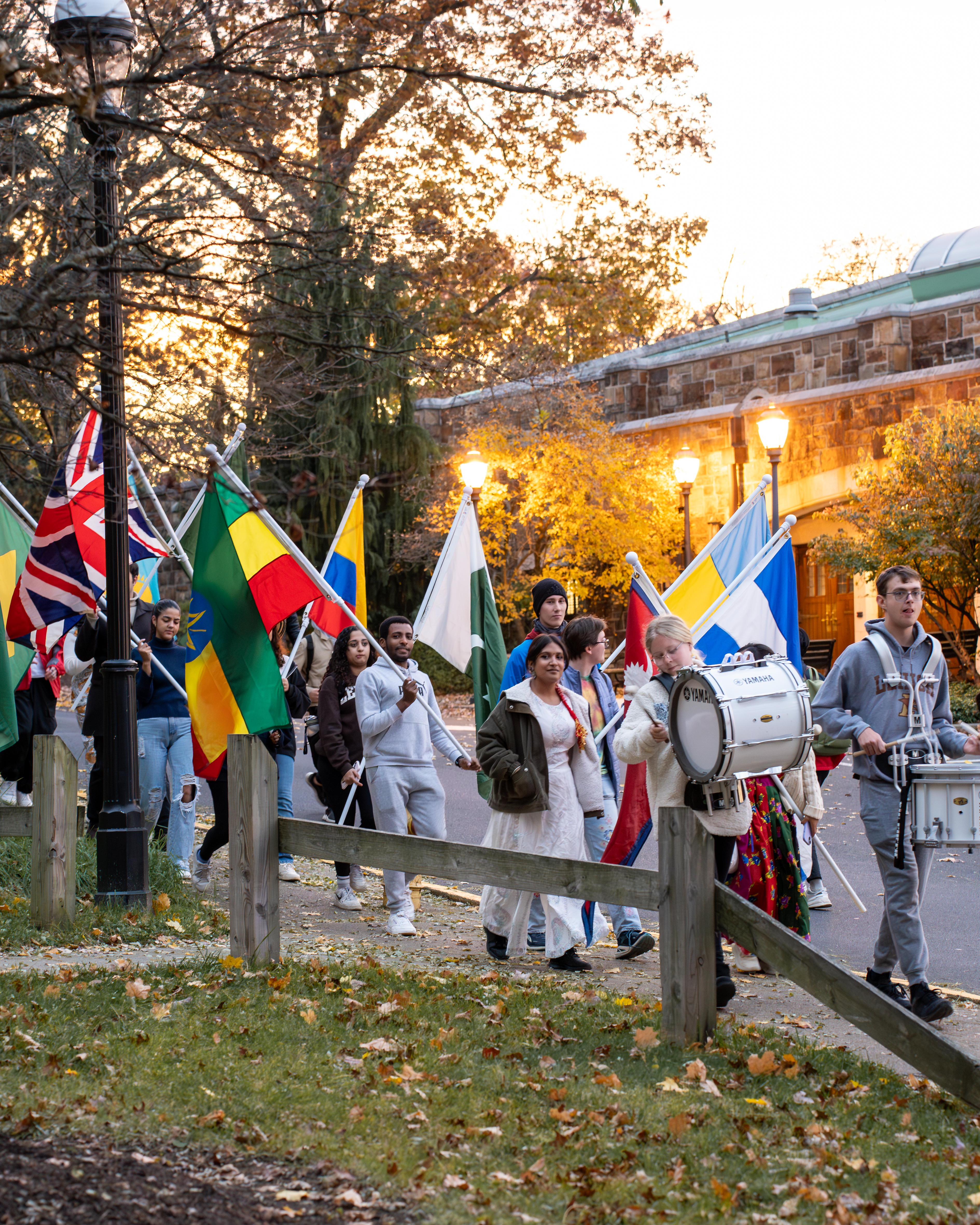 "This has been so great, I was looking forward to this," Shi said as she marched with about 50 other students during Lehigh's annual Flag Parade on Monday. "This is such an inclusive event, it really creates a sense of belonging, and I'm so glad to be a part of it."
Flags from about three dozen countries were represented at the parade, which was one of several Lehigh events held Monday to mark the first day of International Education Week, an annual initiative held from Nov. 13-18, celebrating the benefits of international education and exchange worldwide.
"I really enjoyed representing my home country of Ecuador during the parade here today," said Michael Andramuno, a student in Lehigh's Earth & Environmental Science Graduate Program. "It really speaks to how international a place Lehigh University is, with all the communities that are represented here."
The parade concluded at the STEPS Concourse, where an IEW kick-off celebration was hosted by Global Union. It included delicious cultural foods, performances by popular campus dance teams, education on the many cultural groups represented at Lehigh, and opportunities to learn about international campus resources. Lehigh University President Joseph Helble was in attendance, visiting with each of the student club organizations represented.
This was just the start of a full slate of exciting and enriching IEW events Lehigh's Office of International Affairs (OIA) has planned for throughout the remainder of this week. For a full calendar of events and additional information, including how to pre-register for specific events, visit global.lehigh.edu/IEW.
Keynote Speaker Kicks Off IEW
The week's IEW offerings began with a keynote speech Monday morning by Amer Ahmed, Vice Provost for Diversity, Equity, and Inclusion (DEI) at the University of Vermont. A nationally-recognized DEI practitioner and thought leader, Ahmed's discussed how to foster inclusion and address inequity in a complex globalized world.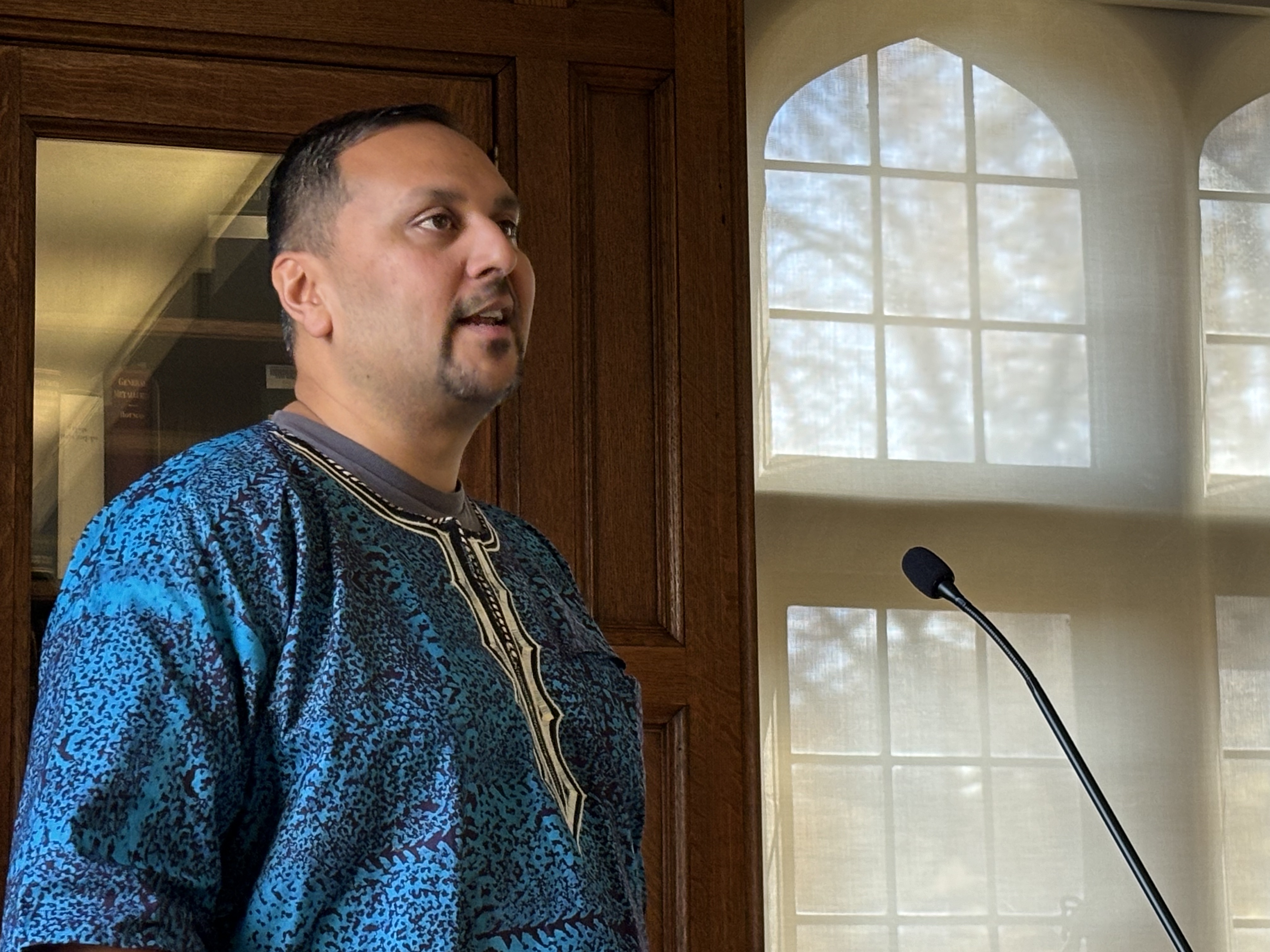 Ahmed noted these challenges are particularly important today, given tensions among different communities due to the ongoing Israel-Hamas war.
"We need to come from a place of support and validating students around their experiences, but we also need to be able to challenge them," he said. "We have to be able to create enough trust with our students to where they can be challenged to consider there may be an experience that's not their own that is also valid and significant."
Ahmed spoke about dismantling the "U.S. vs. International" dichotomy. Too often, he said, racism is discussed solely as a United States problem, not in the context of a global issue, which creates the risk of DEI being considered separate from international education, and therefore left out of the conversation.
"Anywhere you go, there's some kind of power inequity that exists everywhere in the world," said Ahmed, noting that many of these inequities are rooted in colonialism throughout global history. "... There's an emphasis on power and social identity, which is important, but it often lacks a global lens in how we understand it, so as a result we don't often focus on the connection between the U.S. context and the way inequity functions in other places in the world."
Lehigh's Commitment to Inclusion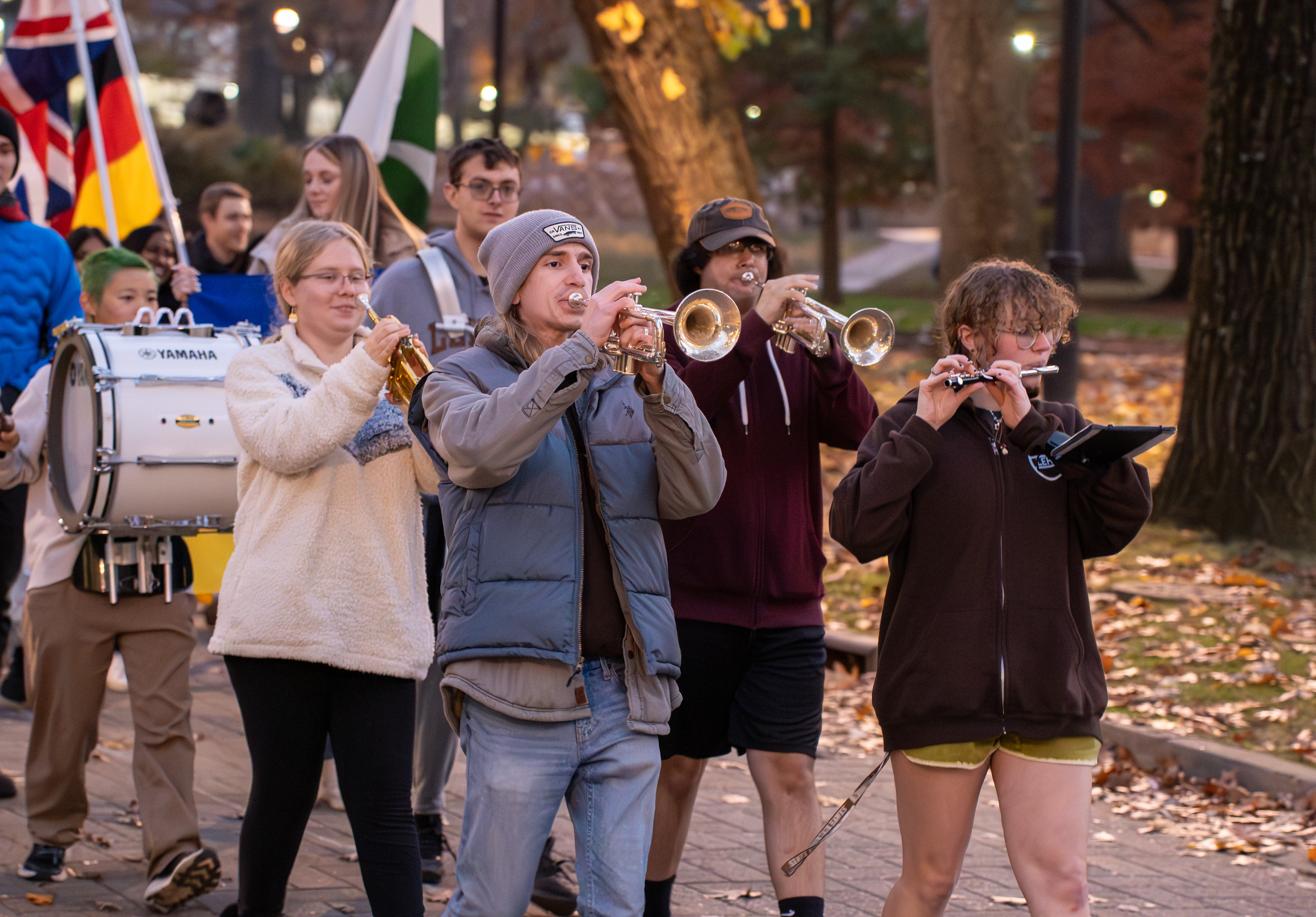 Angelina Rodríguez, Assistant Vice Provost for Global Learning at Lehigh University, said she particularly appreciated Ahmed's emphasis on continuing to think about collaborations between global education and DEI perspectives, which has long been a key consideration in Lehigh's approach to international education.
"Understanding more about work in both arenas will enrich and improve work in both arenas as well," Rodríguez said. "Certainly, thinking about how we engage difference demands considerations of power, history, inequities, colonialism, and intersectional identities, something that deeply informs our OIA mission to prepare our students to engage the world and address global challenges."
OIA and Lehigh University's Office of Diversity, Inclusion and Equity regularly collaborate on initiatives, such as with the Passport to Success program. It offers first-year students guidance on the various ways to pursue global educational opportunities at Lehigh, including study abroad, international internships, research opportunities, and more.
About 19% of Lehigh students who go abroad are students who receive or are eligible for Pell Grants, which is money the government provides for students with exceptional financial need. That's roughly equal to the number of Pell-eligible students at Lehigh altogether, and it further reinforces Lehigh's commitment to access.
Other Upcoming IEW Events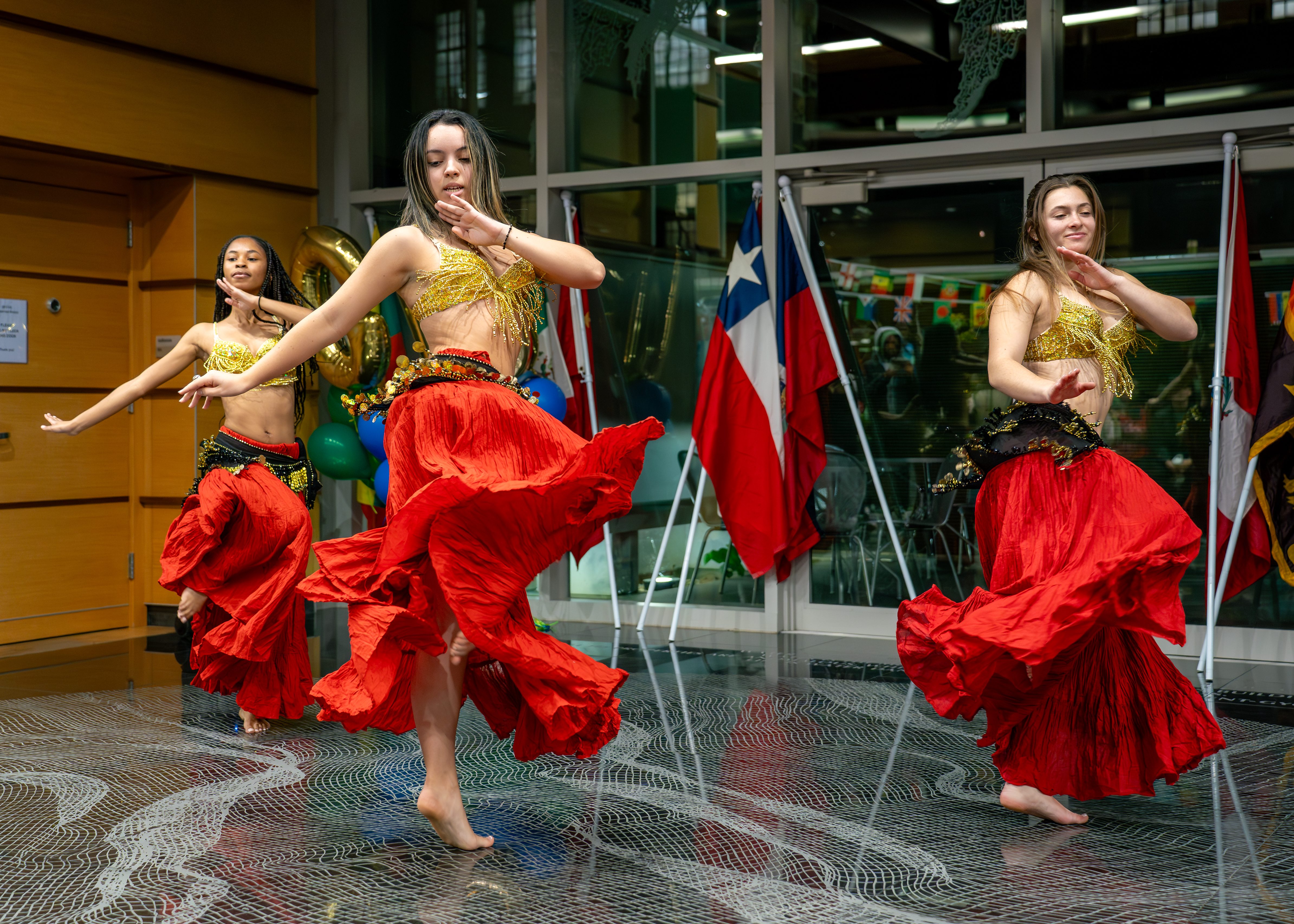 Some of the additional IEW events at Lehigh for the remainder of the week include:
Global Lehigh's India Strategy and Engagement: An Update from Provost Fellow, Anand Ramamurthi

. Tuesday, Nov. 14, at 12 p.m. in the Global Union of Coxe Hall. RSVP

via e-mail to Stacy Burger

.

How to Gain Resume Experience as an International Student

. Tuesday, Nov. 14, from 4 p.m. in Maginnes Hall 480.

Register here

.

Vice International Exchange (VIE) Community of Practice luncheon

, highlighting students who recently participated in a Collaborative Online International Learning (COIL) class with a partnering university in Pakistan. Wednesday, Nov. 15, at 12:15 p.m. in Fairchild-Martindale Library 520.

Register here

.

Global Lehigh Grants: Funding Opportunities for Faculty & Doctoral Students. Wednesday, Nov. 15, at 4 p.m. in Linderman 200. RSVP

via e-mail to Stacy Burger

.

Friendsgiving

. A feast to celebrate Thanksgiving with the Office of International Students and Scholars (OISS) staff and Lehigh's international student community. Thursday, Nov. 16, at 5 p.m. in HST 3rd Floor. Walk-ins NOT permitted due to capacity limits;

register by Nov. 10 here

.

Global Citizenship Talk: Why We Need A Global "Kitchen Table."

Come learn about how support systems support global social change. Friday, Nov. 17, at 10 a.m. via Zoom.

Register here

.

Marketing Your International Experience

. Join the Office of International Affairs Graduate Assistants as they share personal insights about their international experience. Friday, Nov. 17, at 2 p.m. in the Global Union of Coxe Hall.
Follow Global Lehigh on social media at Instagram and Facebook for updates, stories, and photos throughout International Education Week. IEW is an annual initiative sponsored by the U.S. Department of State and U.S. Department of Education.
(Parade/kickoff event photos by Daniel Simboli; keynote speaker photo by Colin McEvoy)