International Education Week, which runs from Nov. 13-17, is a nationally-recognized annual initiative celebrating the benefits of international education.
Lehigh University is planning several exciting and enriching events next week for International Education Week (IEW), starting with an insightful keynote speech about how to help foster inclusion and address inequity in a complex globalized world.
Amer Ahmed, Vice Provost for Diversity, Equity, and Inclusion (DEI) at the University of Vermont, will kick off IEW on Monday, Nov. 13, at 9:30 a.m. A nationally-recognized DEI practitioner and thought leader, Ahmed's keynote speech talk – entitled "Dismantling the 'U.S. vs. International Dichotomy: Creating Synergy to Address Global Inequity Challenges" – will feature a unique perspective on social justice, global education, and addressing inequity challenges.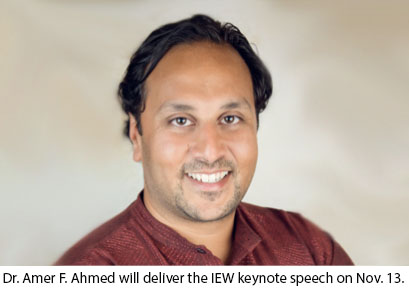 Ahmed will speak at Linderman Room 200, and a breakfast will be provided. Registration is required; visit here to pre-register. Additional information and a full calendar of IEW events for the week, including registration information for each, can be found at global.lehigh.edu/IEW.
Ahmed's speech is the first of several events planned from Nov. 13-17 for International Education Week, an annual initiative sponsored by the U.S. Department of State and U.S. Department of Education celebrating the benefits of international education and exchange worldwide.
"International education is driving the future, and it's truly part of our DNA at Lehigh University," said Cheryl Matherly, Vice President and Vice Provost for International Affairs at Lehigh's Office of International Affairs. "At Global Lehigh, we seek to position our graduates to engage the world and to thrive professionally and personally in today's global arena."
In addition to Ahmed's keynote speech, IEW events on Monday, Nov. 13, will include an annual Flag Parade at 4:30 p.m., during which students from Global Union will march around campus carrying the flag of their home country, or a country in which they have had a global experience.
The parade will start at Coxe Hall and end at STEPS Concourse, where a kick-off celebration will be held at 5:30 p.m. It will include delicious cultural foods, performances by popular campus dance teams, education on the many cultural groups represented at Lehigh, and opportunities to learn about international campus resources.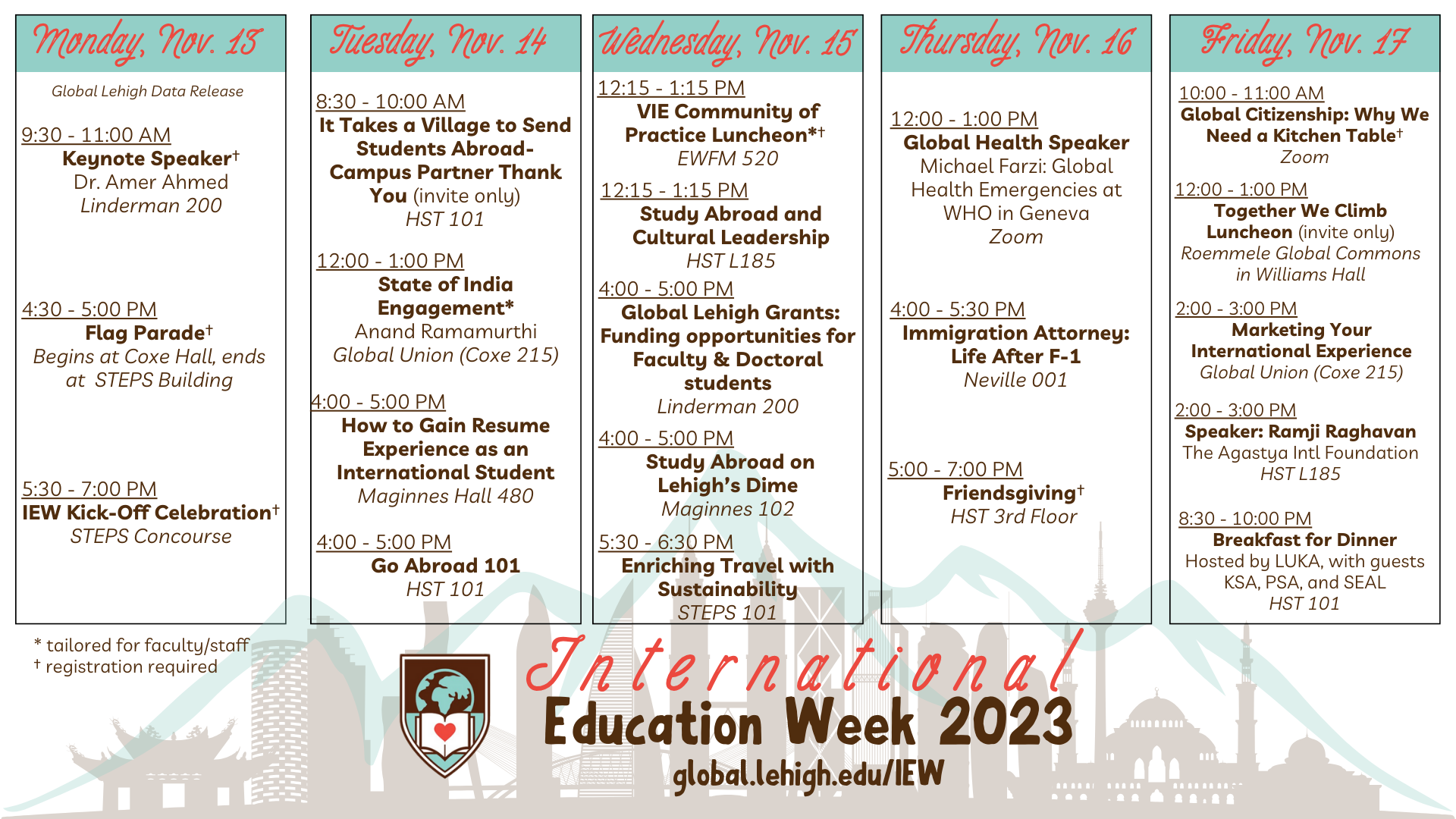 Some of the additional IEW events at Lehigh for the remainder of the week include:
Global Lehigh's India Strategy and Engagement: An Update from Provost Fellow, Anand Ramamurthi. Tuesday, Nov. 14, at 12 p.m. in the Global Union of Coxe Hall. RSVP via e-mail to Stacy Burger.
How to Gain Resume Experience as an International Student. Tuesday, Nov. 14, from 4 p.m. in Maginnes Hall 480. Register here.
Vice International Exchange (VIE) Community of Practice luncheon, highlighting students who recently participated in a Collaborative Online International Learning (COIL) class with a partnering university in Pakistan. Wednesday, Nov. 15, at 12:15 p.m. in Fairchild-Martindale Library 520. Register here.
Global Lehigh Grants: Funding Opportunities for Faculty & Doctoral Students. Wednesday, Nov. 15, at 4 p.m. in Linderman 200. RSVP via e-mail to Stacy Burger.
Friendsgiving. A feast to celebrate Thanksgiving with the Office of International Students and Scholars (OISS) staff and Lehigh's international student community. Thursday, Nov. 16, at 5 p.m. in HST 3rd Floor. Walk-ins NOT permitted due to capacity limits; register by Nov. 10 here.
Global Citizenship Talk: Why We Need A Global "Kitchen Table." Come learn about how support systems support global social change. Friday, Nov. 17, at 10 a.m. via Zoom. Register here.
Marketing Your International Experience. Join the Office of International Affairs Graduate Assistants as they share personal insights about their international experience. Friday, Nov. 17, at 2 p.m. in the Global Union of Coxe Hall.
Follow Global Lehigh on social media at Instagram and Facebook for updates, stories, and photos throughout International Education Week.