When Winnie Gu '19, '21G enrolled at Lehigh for the fall 2015 semester, she had already bounced around quite a few times in her life.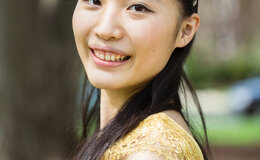 Hailing from Shanghai, she had also lived in Japan. Her high school education was made up of two years in Singapore and a year and a half in New Jersey.
Back in 2015 if an incoming international student had not lived in the United States for five years before enrolling in Lehigh, they were required to place in the English as a Second Language (ESL), now called the International Center for Academic and Professional English.
During Gu's first year at Lehigh she was enrolled in an English class, concentrating on how to write, narrative writing, grammar instruction, the logistics and style of writing, essay structure and how to properly cite using APA and MLA formatting.
She went on to pursue a double major in arts and architecture, and is now a graduate student getting her master's in education, with a dual certification program in elementary and special education.
"It helped me find my writing style because even though my English was already okay — up to standards when I came in — it was helpful to develop my own style through those classes," Gu said.
She said the English classes she took her first year at Lehigh strengthened her ability to write research papers and reflection papers for architecture and education classes.
Though Gu only took the two required classes at the now-International Center for Academic and Professional English, her involvement with international students extended beyond the classroom setting.
In 2017 Gu founded International Voices, a yearly publication that boasts a collection of all forms of student artwork, in forms such as poems, photos, narratives, calligraphy, painting and drawing.
Now she runs the Conversation Partners program, where international students are paired with native or near-native English speakers to practice language and share cultural exchange.
"English students would learn something about international students and their background, and international students would practice their english," Gu said.
Gu said the connection with other international students is something the values, getting to know people of similar backgrounds. This led to her involvement with International Voices, Global Union and LU Diplomats.
After getting her permanent residency during her first year at Lehigh after coming in as an international student, she is no longer one.
Gu even went on to work as an international admissions intern in Lehigh's Office of Admissions, where she did international marketing — creating videos and illustrations showing prospective students what college life is like at Lehigh.
Lately, she has been observing and teaching at local elementary schools as part of her dual certification program and said she loves how hands-on it has been.
After graduating, she plans to either be a teacher in Pennsylvania or work at Lehigh.