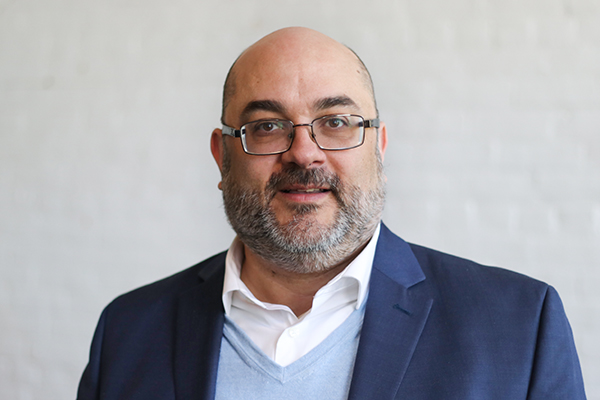 Director, International Center for Academic and Professional English
Education
Ph.D., Educational Linguistics: May 2004
University of Pennsylvania, Philadelphia, PA
M.Ed., Language Education: December 1997
Temple University, Philadelphia, PA
B.A., English: May 1995
Temple University, Philadelphia, PA
Philosophy of Teaching
In my teaching, I try to facilitate learning by providing students with: (a) a linguistically rich environment; (b) opportunities to negotiate in/through authentic tasks/genres; (c) necessary scaffolding to support achievement of measurable learning objectives; and, (d) systematic assessment of and feedback on task outcomes. In practice, my teaching often involves presenting key concepts or skills, facilitating collaborative practice in student pairs/groups, ongoing assessment through observation of these activities, and then debriefing on learner progress.
Professional Interests
Second Language Curriculum Design & Assessment, Academic/Professional Discourse & Issues Related to Identity and Plagiarism, TESOL Professional Development & Teacher Training.
Selected Publications
Ouellette, M. A. (2010). "Interactional Entanglements: A Frame Analysis of Negotiated Identities in Ethnographic Research on the Language Classroom." Working Papers in Linguistics, 3, 25-42. Department of Linguistics & TESOL, The University of Texas at Arlington.
Ouellette, M. A. (2008). Voices on the Landscape: Plagiarism, Voice Appropriation, and Academic Competence in ESL Freshman Composition. Berlin: VDM Verlag.
Ouellette, M. A. (2008). "Weaving Strands of Writer Identity: Self-as-Author and the NNES 'Plagiarist.'" Journal of Second Language Writing, 17(4), 255-273.
Ouellette, M. A. (2002). "It's Really Not that Bad: Hedges and Indirect Complaints in 'Troubles-Talk' Narratives." Working Papers in Educational Linguistics, 18 (1), 107-126. Graduate School of Education, University of Pennsylvania. (Spring 2002).
Selected Presentations
Ouellette, M.A., & S. Burger. (2018). "E-portfolios, University Pathway Programs, and Strategic Partnerships: Addressing Multilple Stakeholders' Needs." Paper Presented at the Conference for Higher Education: 100,000 Strong, Partners of the Americas, Bogota, Colombia. (September 26, 2018).
Ouellette, M. A., & I. Nichols. (2012). "Teaching English Tenses in Discourse Using Authentic Recordings." Paper presented at the PennTESOL East Conference: Penn State University Abington. (November 3, 2012).
Ouellette, M.A. (2006). "Off the Record: Reflections on Frames and Ethnographic Field Roles in an Educational Setting." Paper presented at the Urban Ethnography Forum: Philadelphia, PA. (February 24, 2006).
Ouellette, M. A. (2006). "Telling Stories about 'Us': Narrative Construction and National Identity in U.S. History Textbooks." Paper presented at the American Association of Applied Linguistics Conference: Montreal, QC. (June 20, 2006).
Ouellette, M. A. (2005). "Balancing Act: Dealing with Content and Form in the Language Classroom." Paper presented at the Regional TexTESOL V Conference: Hurst, TX. (November 2, 2005).
Ouellette, M. A., & C. Theodoropulos. (2005). "Constructing Social Positions in ITA Written Feedback." Paper presented at the TESOL Conference: San Antonio, TX. (April 1, 2005).
Ouellette, M.A. (2013). "An Integrated Pedagogy for Authorship and Plagiarism." Talk at the PennTESOL East Spring Conference: Community College of Philadelphia (April 13, 2013).
Ouellette, M.A. (2012) "Understanding Plagiarism, Authorship, and Identity in ESL Composition: An Academic Literacies Model." Talk at the School of Education, Temple University. (November 14, 2012).
Ouellette, M. A. (2009). "The Discourse Construction of Academic Identities: In, On, and Around Text." Invited Talk at the Department of Applied Linguistics, The Pennsylvania State University. (January 19, 2009).
Languages Spoken
English (native proficiency); Spanish (CEFR B1)