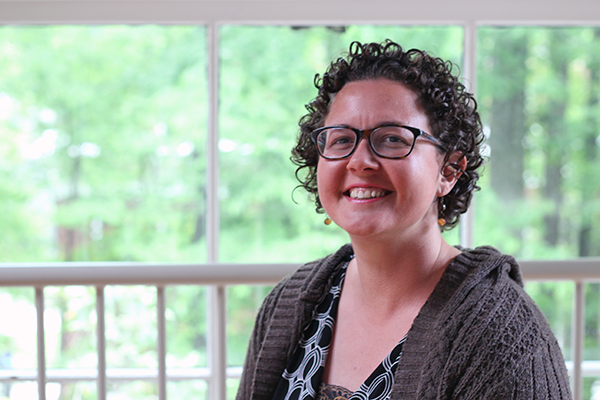 Education
Ph.D., Applied Linguistics
Ball State University
M.A., TESOL
Murray State University
B.A., Spanish & Art History
Vanderbilt University
Philosophy of Teaching
My teaching philosophy is a constant pursuit of an ever more student-centered classroom. My goal is to limit my own lecturing to less than 20% of class time. I'm not "there" yet, but I've increased the amount of student activity and student talk in all my classes. My administrative philosophy is to serve as a teacher coach, fostering teacher agency and facilitating each teacher's individual, autonomous professional growth. Our students benefit from our department's diversity of teaching styles.
Professional Interests
Dialect equality

Teaching composition to ESL students

Teacher coaching

Culture

Tutoring international students
Selected Professional Presentations
2021 "First-Year Composition and ESL Integration: A Case Study." TESOL, Houston, Texas.
2019 "How Can We Get Them to Speak English?: Multilingualism in Higher Education." With Mark Ouellette. Symposium on Teaching and Learning, Bethlehem, Pennsylvania.
2019 "Scaffolding First-Year Composition Students to Research through Eco-composition." Conference on College Composition and Communication, Pittsburgh, Pennsylvania.

2017 "Raising Environmental Awareness with University Writing Activities and Group Projects." With Jennifer Lund and Jennie Roloff Rothman. TESOL, Seattle, Washington.

2011 "Connecting Memory and Research Through Eco-Composition." Association for the Study of Literature and the Environment. Indiana University, Bloomington, Indiana.

2011 "Communicating Across Cultures: The Role of Culture In the Tutoring Session." With Elmar Hashimov. East Central Writing Center Conference, Western Michigan University, Kalamazoo, Michigan.

2011 "The Southern Dialect in Kokomo, Indiana." Practical Criticism Midwest, Ball State University, Muncie, Indiana.

2009 "The Translation of Protestant Hymns into Korean." Language and Linguistics Student Conference, University of Central Oklahoma, Oklahoma City, Oklahoma.

2009 "Telling Half the Story: The Absence of Discourse Transcriptions in Neurolinguistic Research." Practical Criticism Midwest. Ball State University, Muncie, Indiana.
Publications
2018, April 24. "Teaching ESL Writers Research Through Eco-Composition." Environmental Responsibility Professional Learning Network Newsletter, no. 8. With Mary Newbegin, Teresa Cusumano, and Kayla Landers

2013 "Eco-Composition: Blending Memoir and Research Paper." Chapter in the online teaching guide for The Colors of Nature: Culture, Identity, and the Natural World, pp. 85-97. Edited by Alison Hawthorne Deming and Lauret E. Savoy. Minneapolis: Milkweed Editions.

2012 "Teaching Dialect Awareness in the College Composition Classroom: An Evaluation." Dissertation accepted and submitted in fulfillment of requirements for a Ph.D. in English.
2012 "Teaching Linguistic Diversity through Theater Arts." Film submitted as part of the project "Inclusive Pedagogy and Diversity: Education for the 21st Century." Film, Ball State University. With David Concepción.

2009 "Connecting Memory and Research Through Eco-Composition". Indiana English, Volume 31, Number 1. As Ashley Nicole Ellison.
Languages Spoken
English, Spanish, Korean