Odilon Niyomugabo '21 wants to pay it forward, however he can. That has been his mindset at Lehigh and will continue to be as he moves toward a professional life.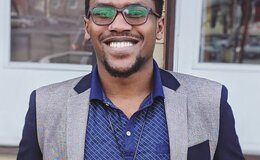 The industrial systems engineering (ISE) major is a native of Kigali, Rwanda. He also has a business and French minor. But back in high school, he didn't know what ISE was or what Lehigh was about. He just knew he wanted to study engineering with a business component to it.
Before Niyomugabo came to South Bethlehem in August 2017, he had spent the 16 months after his high school graduation learning English at a program called Bridge2Rwanda.
"It's a cool program. Without it, I don't think I'd be at Lehigh," Niyomugabo said. "The more I did research, the more Lehigh seemed interesting to me."
Everybody at Lehigh is so supportive. If you need help, you're going to see it.
When he enrolled at Lehigh, Niyomugabo took English 003 and 005, Composition and Literature I and II for International Writers, and absolutely loved them. The courses are taught by instructors from Lehigh's International Center for Academic and Professional English (ICAPE) and help multilingual speakers of English from different cultural and linguistic backgrounds improve their advanced academic written English and academic writing style.
Niyomugabo credits ICAPE's ESL program with providing him the opportunity to discuss more than he could have in his math classes. The exercises and readings were based off the fact that those in his class were international students.
"There are more things going on in this Earth," he said. "We used to talk about politics – all these things that, in general, help you to immerse in a new culture."
Niyomugabo used to write journal entries for class. He thought it was a cool idea and still reads his writing. He would talk about his accomplishments, his progress and anything else that was on his mind.
He thinks fondly of the discussion aspect of his ESL classes. After his science classes, it was a chance to talk and reflect. It was a warm welcome to a new place, and he is still friends with some of the people he took ESL classes with.
"Some of the discussions we had kind of helped you see that you're not the only one going through this transition," he said. "There's other people going through the same transition as you."
Niyomugabo said his first year was tough and that he missed home. He tries to go once a year, but won't be able to go back to Rwanda until December. He was last there in August.
Despite this, he said he is definitely grateful for getting a chance to come to Lehigh
"Everybody at Lehigh is so supportive," Niyomugabo said. "If you need help, you're going to see it. If people seek help, people who can't help you will direct you to someone who can."
He said everything he tries to do, any way he can, he will aim to help fellow students. He wants to pay it forward and give any help he possibly could.
"In this world, you can't live alone. You need people. Help as much as you can and ask for help if you need it," he said. "When you don't have a lot of people that don't understand your background, or the same upbringings, it can be kinda difficult to have people you can call for help if needed."
At Lehigh, Niyomugabo has taken advantage of many opportunities. He is a part of the first founding committee of the African Student Association. He is in the Lehigh Diplomats club, where he interviews prospective international students, discussing life at Lehigh and any questions they may have. In the fall, he had a co-op at Knoll, a manufacturing company in East Greenville, Pennsylvania, and will be interning there this summer.
But after Lehigh, he knows he wants to end up back in Kigali for good.
"Whatever I do here – either grad school or a job here – everything is to prepare me to go back home, because that's where I belong," Niyomugabo said. "Home is where you're happy, and I think I'm happy when I'm in Rwanda."
Niyomugabo said there is room for improvement in Rwanda and potential for him to be among the leaders of development. He wants to advocate for opportunities in the realm of investors, business, culture and technology.
He wants to be a part of the solution, working with great minds. One possibility is to link programs at Lehigh, or Lehigh alumni, with Rwanda.
"There's lots of opportunity in Rwanda. It rose me up, so the only way is to help," Niyomugabo said. "The future is exciting."
He said he wants to pay it forward with whatever experience he has – the way it should be.